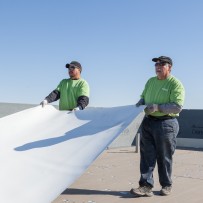 Earth Day is a day to focus on the environment and it is also a good time to think about eco-friendly roofing options. A place to start is to review some of the characteristics that factor into categorizing a roofing material as eco-friendly or green.
Recycled Content or the Ability for the Material to be Recycled or Reused
Eco-friendly Benefits: Reduction of waste, as well as the preservation of landfill space and raw materials.
The following GenFlex products have this green characteristic:
High-Solar Reflectance (SR) and High-Thermal Emittance (Cool Roofs)
Eco-friendly Benefits: Lower cooling-related energy consumption and a reduced Urban Heat Island impact. Reducing a building's power consumption can benefit the environment by lowering the amount of air pollutants emitted by power plants such as harmful greenhouse gases like carbon dioxide (CO2).
GenFlex products including FlexWhite EPDM and the entire EZ TPO Peel & Stick product line have this eco-friendly characteristic. See our recent blog post on Cool Roofs for details.
Low or No Volatile Organic Compounds (VOCs) Content
Eco-friendly Benefits: Reduced ground-level ozone (smog) and a reduction in chemical emissions that can exacerbate respiratory illnesses like asthma and possibly cause other health concerns.
GenFlex's EPDM Solvent-Free Bonding Adhesive has a near-zero VOC content and is odor-free. In 2013, a process was developed at our Prescott Plant to re-introduce EPDM scraps back into the product, which has eliminated 8,400 tons of scrap since 2013. In addition, GenFlex offers a variety of low-VOC adhesives, primers, and caulks.
The Ultimate in Green Roofs—Living Roofs
Eco-friendly Benefits: They increase air quality since plants can absorb air pollutants. They save energy since they act as an insulator reducing heat loss in the winter and cooling expenditures in the summer. Green roofs are also known to mitigate the Urban Heat Island Effect, and they store and use rainwater.
See our recent post on Green Roof Systems to learn more about living roofs and the GenFlex roofing membranes that are used with them.
Contact a GenFlex Sales Representative today to discuss any of GenFlex's eco-friendly roofing options. These products have the added benefit of helping building projects achieve a LEED v4 rating.