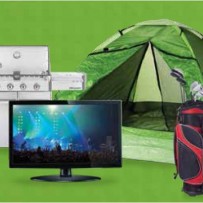 As a GenFlex contractor, you work hard, and GenFlex wants to give you a little something extra to recognize your accomplishments.  PERX is our contractor rewards program that allows you to choose which rewards you want to receive. This is our way of saying thank you for taking GenFlex products to new heights.
GenFlex Authorized Contractors can now take advantage of this exciting program and will receive points based on a number of factors including insulation, membrane type and square footage of installation. To see a complete list of point values for your project, visit our PERX page.
To sign up for the program, you will need your Authorized GenFlex contractor license number for your username and password to log on to www.genflexperx.com. After logging in, you can check out the exciting rewards that are available. You will need to register to start earning your points. After registering, our PIN system tracks your projects, so you can focus on selecting the reward of your choice.
Don't miss out on this opportunity to be rewarded for your dedication and loyalty to the GenFlex brand! To find out more information on how to become an authorized GenFlex contractor, call (800) 443-4272.