Your Great Work Deserves Great Rewards
You work hard, and your hard work doesn't go unnoticed. Install warranted GenFlex products, and you can earn the rewards you deserve.   
Why BuildUp Rewards?
Simply put — BuildUp Rewards offers you perks for what you're already doing, day in and day out. It's an easy way for your business to snag thousands of dollars worth of high-quality equipment, merchandise, and travel rewards for completing projects and growing your business.   Plus, if you're earning BuildUp Rewards, it means you're also a warranted GenFlex contractor. Being a warranted GenFlex contractor sets you apart from competitors and gives you access to a host of benefits, including: 
A dedicated GenFlex technical representative

All GenFlex warranty offerings, including NDL warranties

Field inspection, support, and call-in service center troubleshooting

The GenFlex Pre-Installation Notice (PIN) System to manage warranted projects in real-time
The PIN System is chief among these benefits. You can complete pre-job surveys faster through the system, register new projects for warranty, quickly request final inspections, view inspection reports, and notify GenFlex when roof repairs are completed.   
How Does the BuildUp Rewards Program Work?
Once you're a warranted GenFlex contractor, keep doing great work! You'll earn points for installing and warranting GenFlex products.  Every square foot of a warranted system installation gives you up to four points. Points are based on the square footage of the material installed and the membrane type. For example, installing a TPO or EPDM membrane thinner than 60mm will earn you 2 points, and a fully adhered system will earn you 1 point. To receive your points, enter your warranted square footage in GenFlex's online PIN System.  Worried it'll take forever to actually earn enough points to get rewarded? No need to. Think about the square footage of your last job and take a look at how quickly you could earn points. They add up fast!  

5,000 sf = 15,000 points – redeem for things like wireless headphones, Black & Decker battery-powered drill, or box of Bridgestone golf balls

10,000 sf = 30,000 points – redeem for things like a Porter Cable jigsaw or wireless JBL speaker

20,000 sf = 60,000 points – redeem for things like a flat-screen Smart TV, power washer, or industrial IGLOO cooler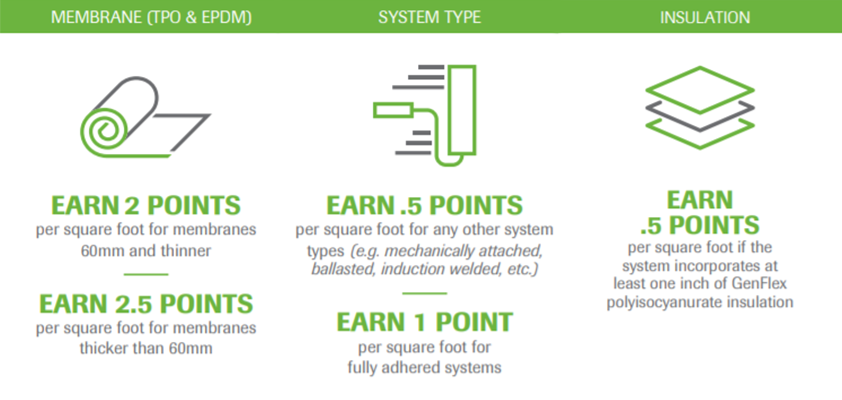 As you accrue points, you get to choose how you reward your business. Give team outings an adventurous edge by redeeming points for grills, coolers, camping and fishing equipment, and sports gear. Or, help your crew stay connected in the office and on the roof by redeeming points for tablets, laptops, smart devices, and wireless headphones and speakers. You can even help promote wellness within your company by redeeming points for activity trackers, smartwatches, and workout equipment! Or, revamp your office space with new break room furnishings, desks, chairs, and company accessories. There are rewards for company cultures of all kinds!    
How Do I Join BuildUp Rewards? 
First, become a GenFlex warranted contractor! Once you're in, install a warranted GenFlex project and enter it through GenFlex's PIN System. Next activate your BuildUp Rewards account to view your point balance, and redeem your points for awesome stuff. Getting started is easy.
Activate:

Within 30 days of entering your first warranted job into GenFlex's PIN system, you'll receive an email prompting you to activate your account on the

BuildUp Rewards

site.

Log in:

Log in using your username (Contractor ID including two leading zeros) and password. If you don't know your password, click the Forgot Password link or call BuildUp Rewards Headquarters at 800-245-6296.

Start spending:

Once logged in to your account, you can start spending your points in the BuildUp Rewards Catalog. Then continue to enter your warranted GenFlex jobs into the PIN System to earn even more points.  
As you earn points, you can spend them in the BuildUp Rewards Catalog!   
How to Become a Warranted Contractor 
GenFlex products are easy to install, and our programs are easy to join! To become a warranted contractor and start building up your rewards, you must:
Have a history of quality GenFlex installations

Be referred by a GenFlex Manufacturing Representative 
Join GenFlex BuildUp Rewards Today!
It's time to build up your business with GenFlex products and BuildUp your rewards at the same time! Learn more about GenFlex's high-quality, easy-to-install roofing products and contact the BuildUp Rewards Headquarters with questions. Our team is here to help you stay laser-focused on growing your business with the best materials, expertise, training, and support — rewards included!