3 Reasons to Choose Seam2Seam EPDM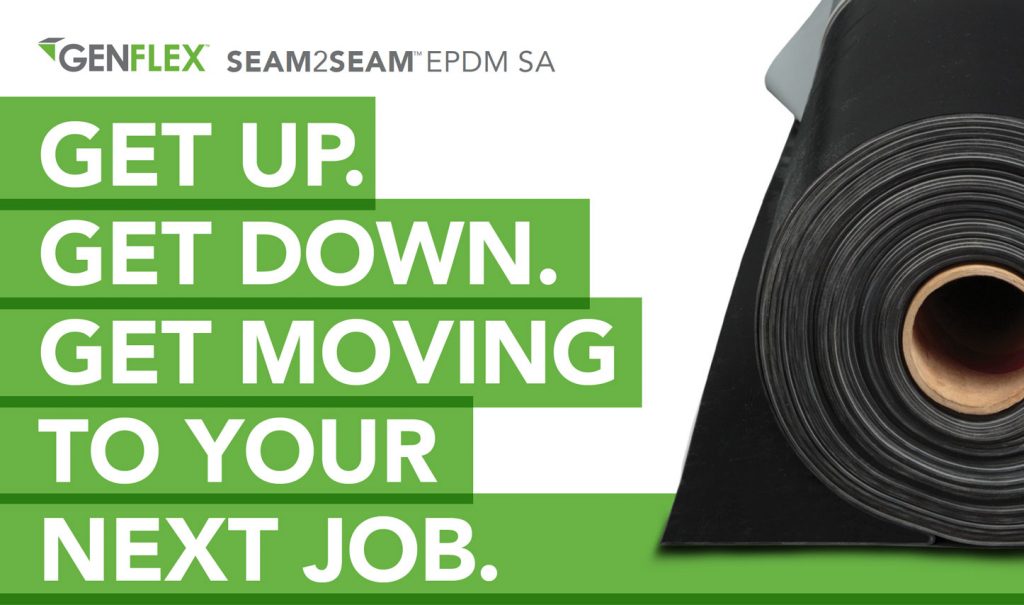 GenFlex's newest EPDM rubber roofing membrane, Seam2Seam, is one you don't want to miss. Its simplified installation means you can get done and on to your next project faster. All in all, Seam2Seam is GenFlex's quickest and easiest option when it comes to EPDM. Here's why.
1. Complete Coverage to Complete the Job Faster
There's the typical way, and then there's the GenFlex way—the easier way.

You typically need to paint on a layer of adhesive when rolling out an EPDM rubber membrane on a roof. Once the initial membrane is applied, you spend even more time taping every seam. At GenFlex, we see these extra steps as an opportunity to help our customers achieve more!

By fully coating the membrane from edge to edge with Secure Bond™ self-adhered (SA) technology, the GenFlex Seam2Seam commercial roofing membrane dramatically decreases your on-site time. With pressure-sensitive adhesive already applied on the entire membrane, all you need to do is roll out the membrane and run a broom across it and apply Seam2Seam sealant. No seam tape required.

A four-person crew can install GenFlex Seam2Seam EPDM SA 4.6x faster than traditional methods.*

2. Give Building Owners Confidence
Installing the best quality roof while keeping business operations up and going is extremely important to commercial building owners. Put their minds at ease when you install GenFlex Seam2Seam. Seam2Seam contains no VOCs and there's no harmful odors, so buildings can stay open and occupied during installation.
Plus, GenFlex EPDM roofs are known for their longevity. There's little need to worry about ponding water or damage from extreme weather cycles.

With proper maintenance, single-ply roofing with a GenFlex EPDM rubber membrane can last for decades. Give your building owners one of the most flexible and durable roofing solutions when you install a GenFlex EPDM rubber membrane.

3. Quickly Respond to Emergency Jobs
Day in and day out, businesses and building owners are preoccupied with keeping their doors open, facilities maintained, and customers happy. With so much to do, the last thing they might be thinking about is the condition of their roof. That's why many owners wait until they need their roof completely replaced, and fast!

By using GenFlex Seam2Seam EPDM Membrane, you make your company more agile, allowing you to take on emergency requests. Reducing installation time means your team can get the jobs already on the books done faster, so you can fulfill last-minute requests when they come in.

You can even add installation days to the end of the roofing season and take on more referrals and time sensitive jobs in the winter, since Seam2Seam can be installed in temperatures as low as 20°F (-7°C) and rising.

Find GenFlex Seam2Seam Near You
You have options when choosing the right commercial flat roof material. The main factors you should consider are install times, no VOCs/no odor so building operations can continue uninterrupted, and longevity. Seam2Seam excels in all three categories.

With GenFlex Seam2Seam EPDM SA, you can complete jobs faster while providing customers with a top-quality new roof installation or roof replacement. Contact your local commercial low slope supplier and ask for GenFlex Seam2Seam EPDM SA today.

*Seam2Seam EPDM SA versus standard EPDM from third party testing. Results may vary.