No roofing system is complete without fasteners and accessories. That's why GenFlex offers a complete line of fasteners and accessories to make sure your roofing system isn't missing a thing. GenFlex Quick Jet and GenFlex Quick Dual are just two easy to use and fast to install accessory products we offer.
---
GenFlex Quick Jet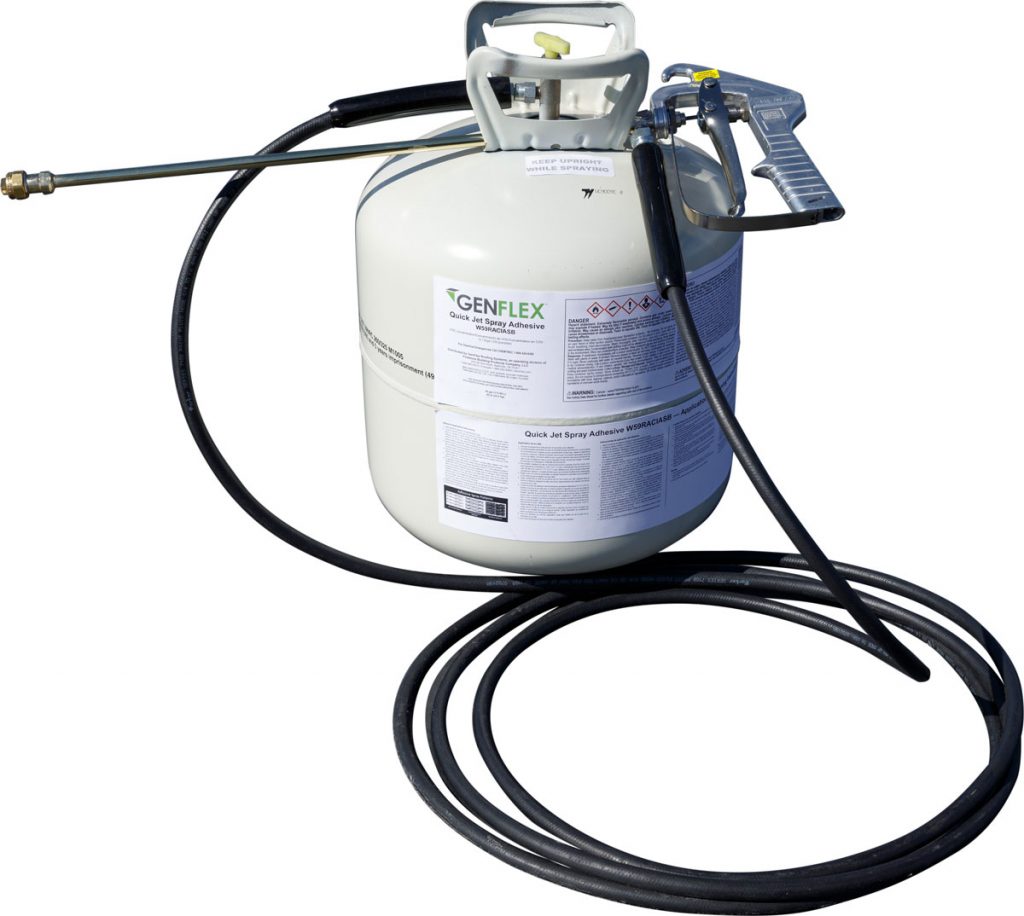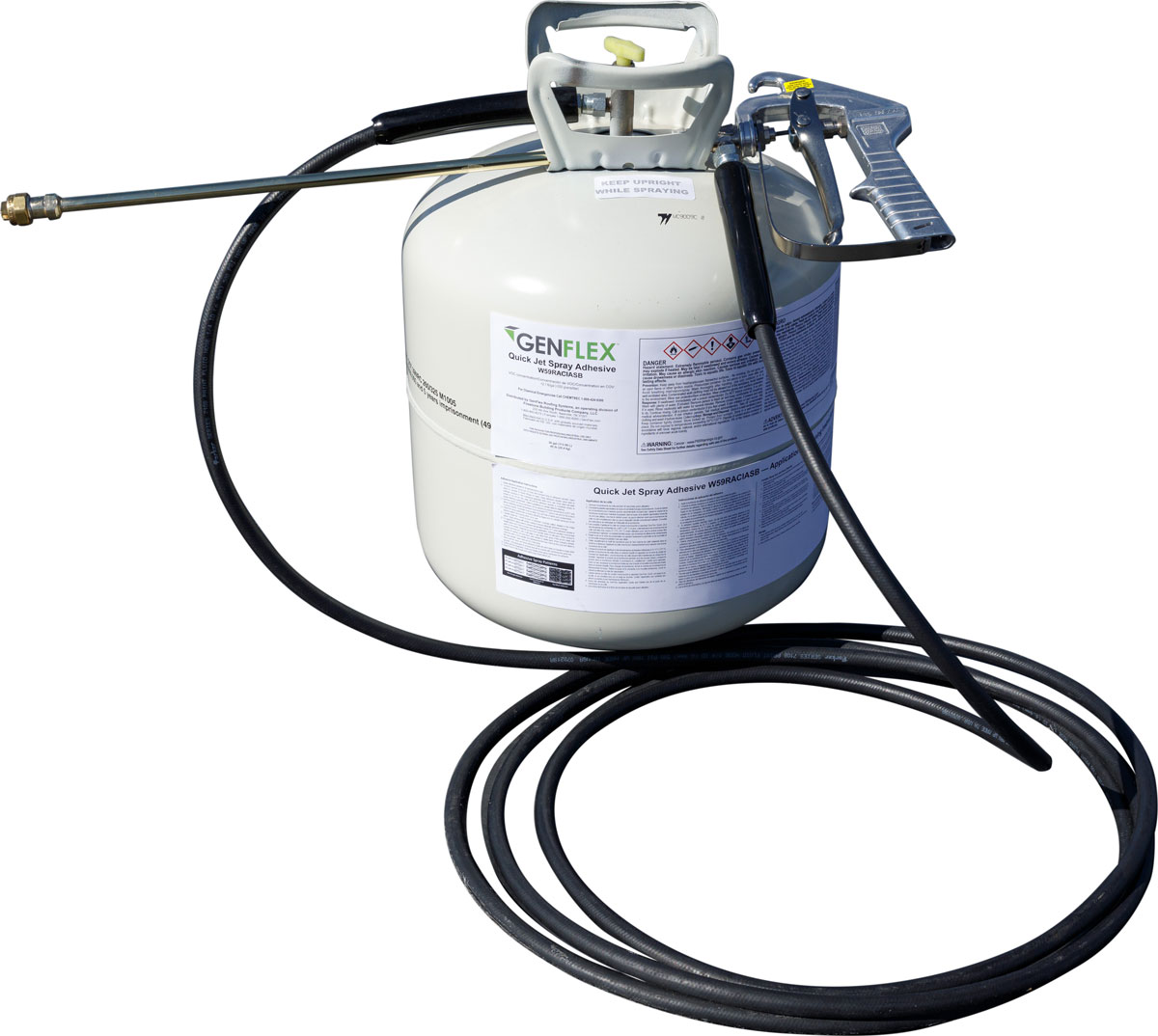 GenFlex Quick Jet low-temperature, LVOC spray adhesive helps boost productivity and reduce labor cost. It's designed to be portable and easy to use, and it's the perfect alternative to roll-on adhesives for all GenFlex non-SA single-ply membranes. *
FEATURES AND BENEFITS
Faster installation with minimal flash off
Cover more roof with each canister (650–1,000 square feet)
Applies in temperatures as low as 25˚ F (-4˚ C)
Each resealable canister is all-inclusive so you can avoid purchasing expensive spray rigs
* Comparison based on Quick Jet vs. GenFlex AFR EPDM/GenFlex All Purpose Bonding Adhesive from third party testing. Results may vary.
---
GenFlex Quick Dual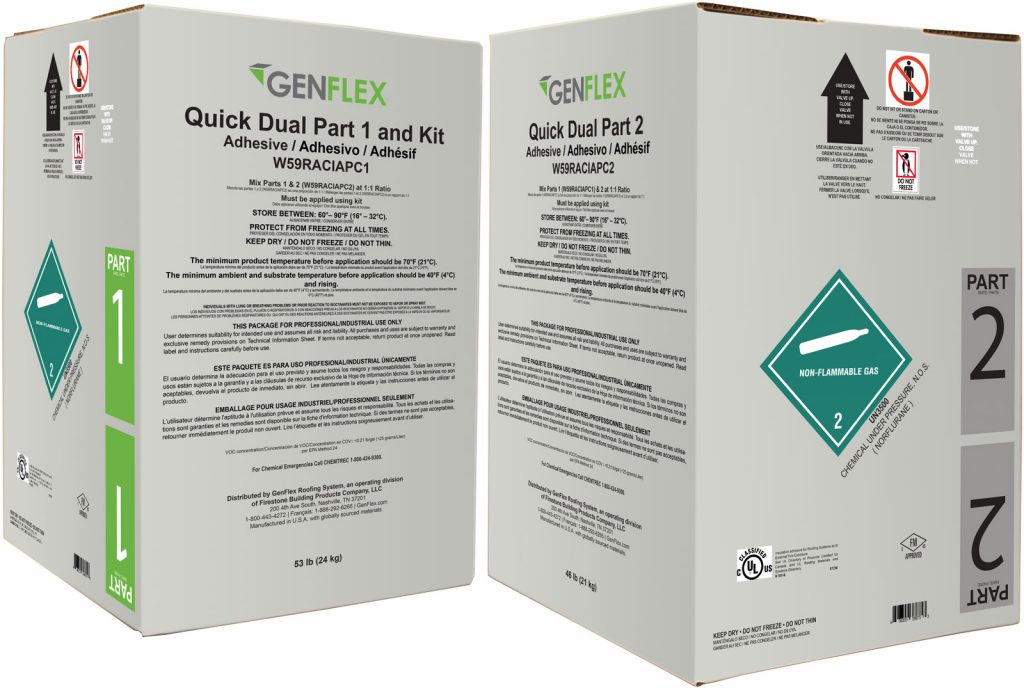 GenFlex Quick Dual is a two-part, low-rise foam adhesive that works for insulation and fleeceback membrane over most approved substrates.
FEATURES AND BENEFITS
Coverage rate up to 3,500 square feet per kit (12" OC ribbon spacing)
Fast and easy setup and shut down for better rooftop productivity
No additional or specialized equipment or power needed
Can be used in serpentine and spatter application
For specific application needs, check out the product data sheets.
---
GenFlex One-Part Pourable Sealer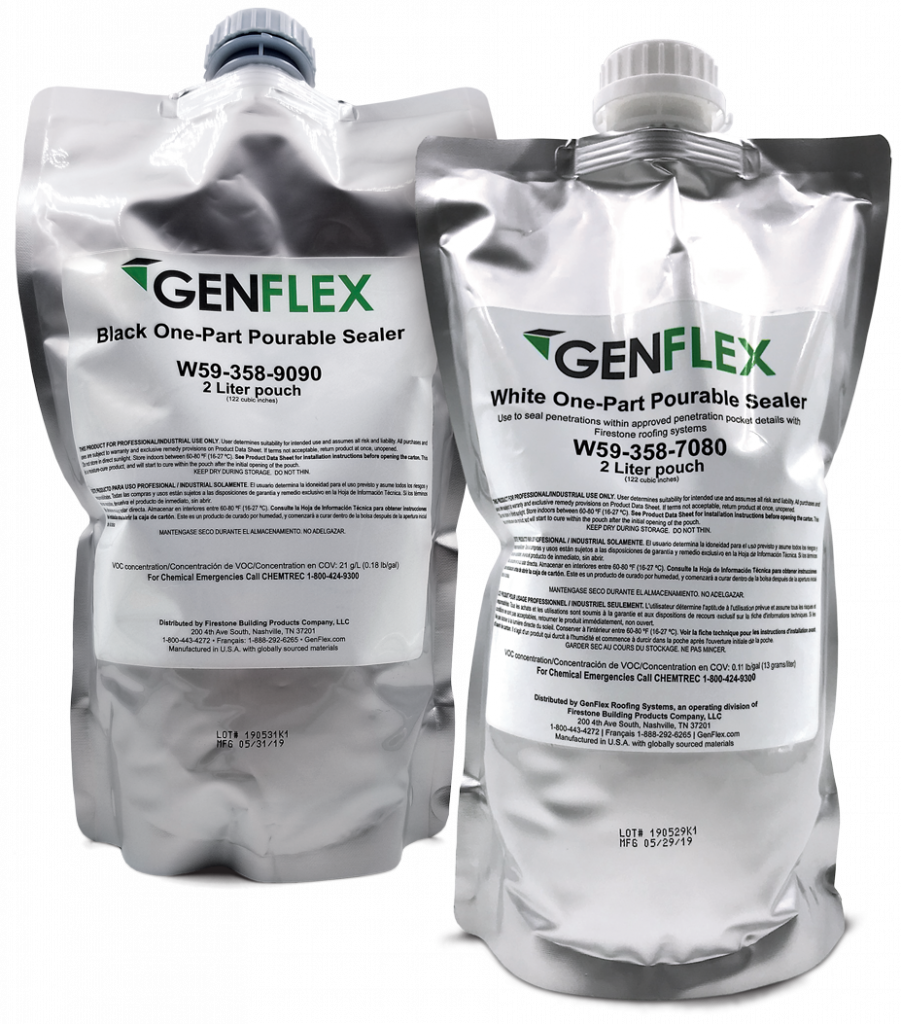 GenFlex One-Part Pourable Sealer, which is available in black or white for use on EPDM and TPO roofing installations, is a liquid flashing solution that when combined with UltraFlashTM Fabric requires no mixing to simplify application.*
FEATURES AND BENEFITS
No measuring and no mixing so it reduces installation time and eliminates the risk of incorrect preparation
Resealable packaging can be saved to use within 30 days*
Water resistant in 90 minutes.** Quick application and cure times enable flashing details to be completed efficiently, optimizing labor resources
Included in GenFlex's Limited Warranty† for up to 20 years when used as a complete flashing system with liquid and fabric
For more information view our One-Part Pourable Sealer Sell Sheet.
See PDS sheet for installation instructions.
** According to lab testing.
† Conditions apply. See Genflex.com/warranty for details.
---
FEATURES AND BENEFITS
Quick setup
Smaller cartridge size increases rooftop mobility; no equipment required
Can be used on nearly any size project and perfect for smaller roofs
Low VOC formula
Cold Weather Application: 20˚F and rising
Coverage Rates:

4" o.c. – 200 Sq. Ft/Carton
6" o.c. – 300 Sq. Ft/Carton
---
GenFlex partners with Metal Era for roof edges, gutters and downspouts that may be necessary to your roofing projects.  For more information on these products, click here.
Product Lists and Distribution Centers:
Sell Sheets / Brochures:
One-Part Pourable Sealer Sell Sheet
Vapor Shield Membrane Sell Sheet
For a complete list of submittal sheets, training videos, and other tools, click here.