Adhesive
LVOC
Size Options
Dispensing Method
Ambient Temperature for Installation
Coverage Rates
Shelf Life
Insulation
Fleeceback TPO
GenFlex Quick Dual Adhesive
Part 1 & Kit – SKU: W59RACIAHFO1
Part 2 – SKU: W59RACIAHFO2
Portable Canister
Spray
40*F & rising
3,500 SF (12″ bead)
12 months
GenFlex I.S.O. Bond Adhesive
Part 1 – SKU: W590052001
Part 2 – SKU: W590052002
5 Gal Bag in Box
Pace Cart
40*F & rising
180-250 SF/Gal
(12″ bead)
18 months
GenFlex One Step Insulation Adhesive


Cartridge – SKU: W590010132

1500mL Cartridge
Nozzle Dispenser
20*F & rising
300 SF
(6″ bead)
12 months
GenFlex Quick Jet Adhesive
Canister – SKU: W59RACSADC
Accessories sold separately – See PDS
Portable Canister
Spray
25*F & rising
1,000 SF
12 months
GenFlex Quick Jet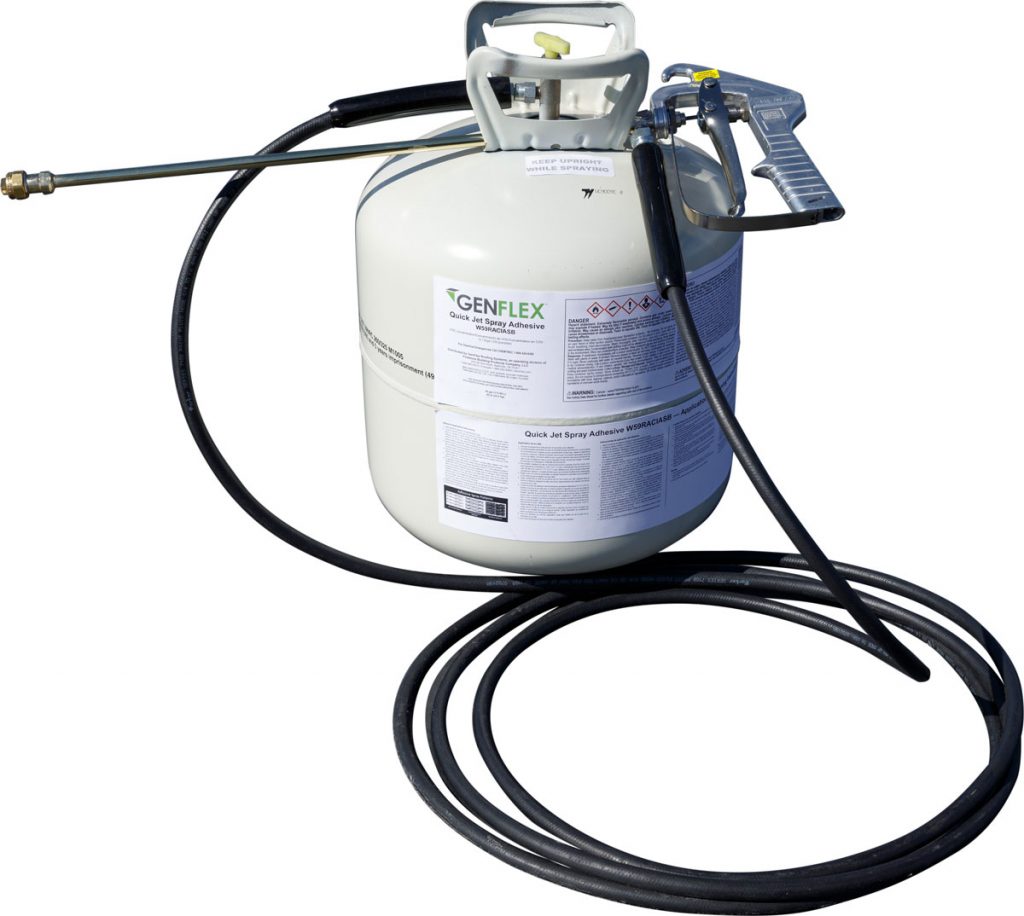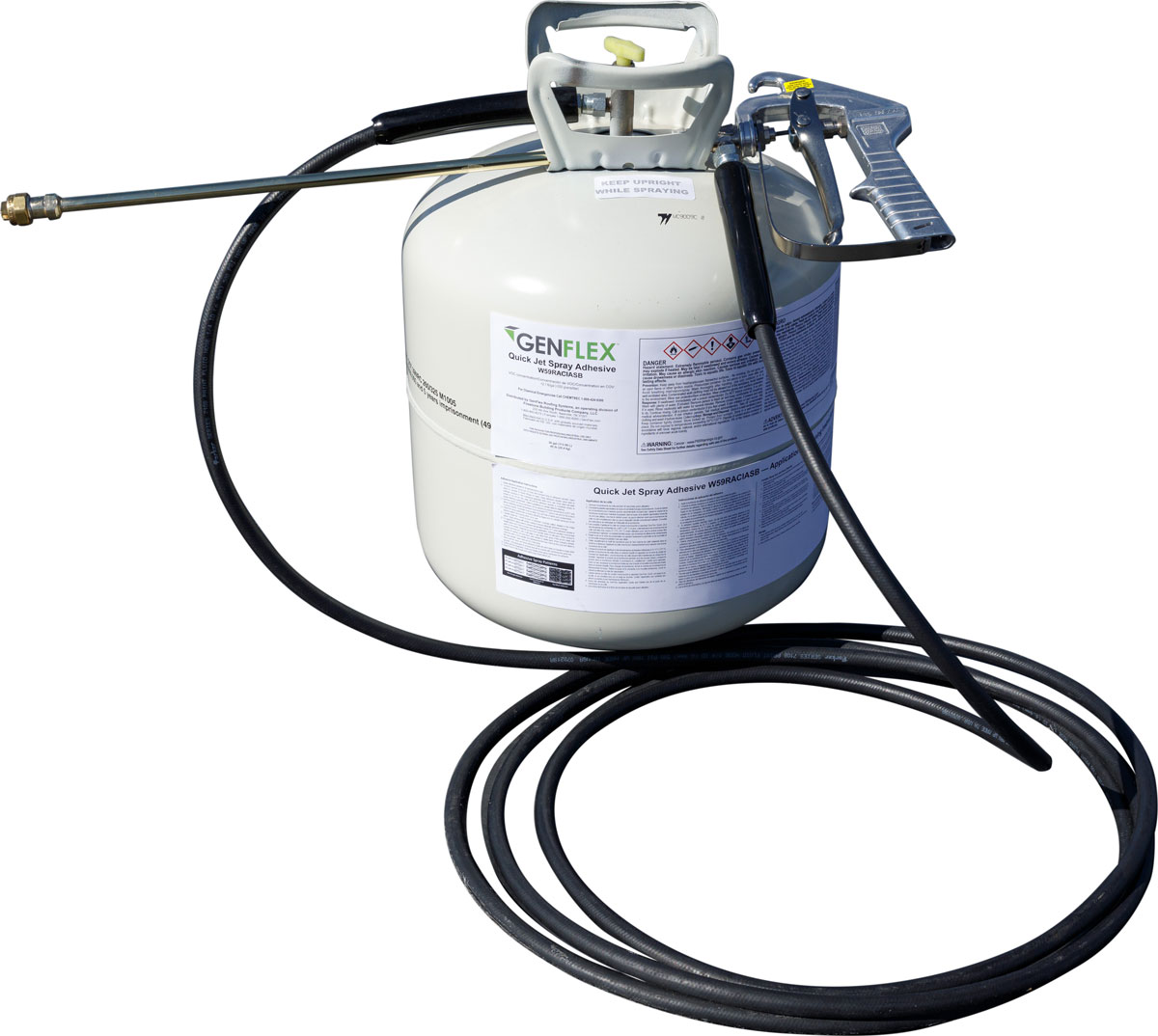 GenFlex Quick Jet low-temperature, LVOC spray adhesive helps boost productivity and reduce labor cost. It's designed to be portable and easy to use, and it's the perfect alternative to roll-on adhesives for all GenFlex non-SA single-ply membranes. *
FEATURES AND BENEFITS
Faster installation with minimal flash off
Cover more roof with each canister (650–1,000 square feet)
Applies in temperatures as low as 25˚ F (-4˚ C)
Each resealable canister is all-inclusive so you can avoid purchasing expensive spray rigs
* Comparison based on Quick Jet vs. GenFlex AFR EPDM/GenFlex All Purpose Bonding Adhesive from third party testing. Results may vary.
---
GenFlex Quick Dual with HFO Propellant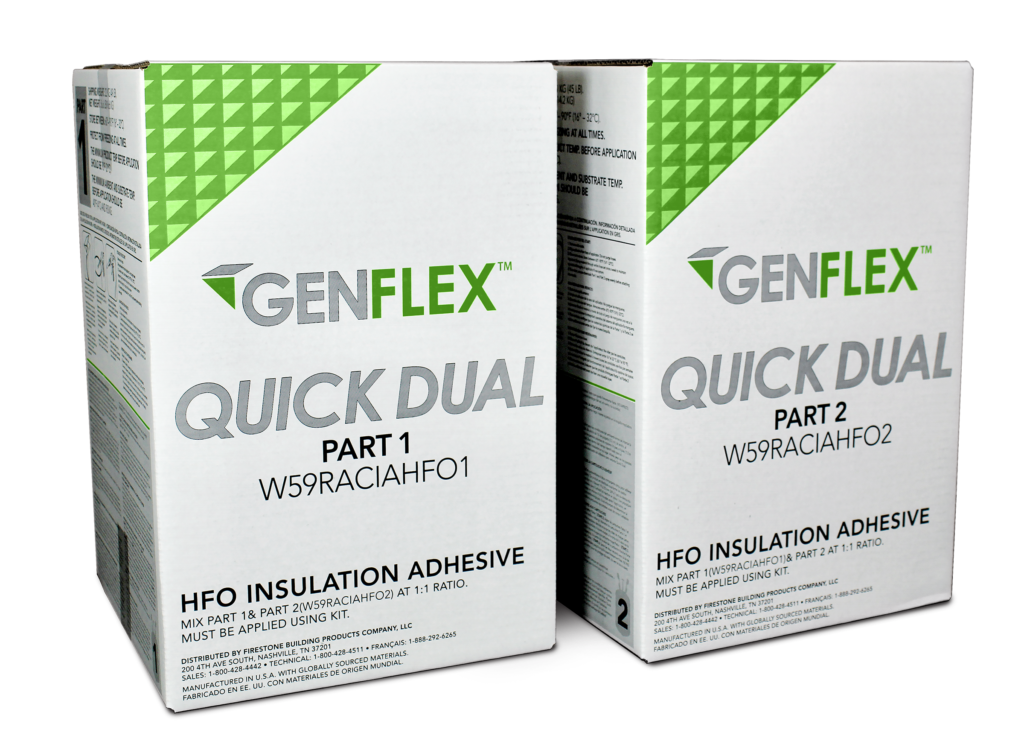 GenFlex Quick Dual is a two-part, low-rise foam adhesive that works for insulation and fleeceback membrane over most approved substrates. It requires no special equipment, covers up to 3,500 square feed per kit, and supports fast and easy set-up and shut down improving rooftop productivity. Each set conveniently comes with hose/gun, mix tips, and extension tubes.  

Quick Dual has been updated with an environmentally-friendly HFO propellant that's compliant with all U.S. State and Canadian Provincial regulations. HFO propellants are categorized as having zero ozone depletion potential (ODP) and low global warming potential (GWP), providing a more sustainable solution compared to alternatives CFC, HCFC, and HFC propellants. Learn more about HFOs.
FEATURES AND BENEFITS
HFO propellant meets current regulations in the U.S. and Canada 

Coverage rate up to 3,500 square feet per kit (12" OC ribbon spacing)
Fast and easy setup and shut down for better rooftop productivity
No additional or specialized equipment or power needed
Can be used in serpentine and spatter application
For specific application needs, check out the product data sheets.
---
Sealers
GenFlex One-Part Pourable Sealer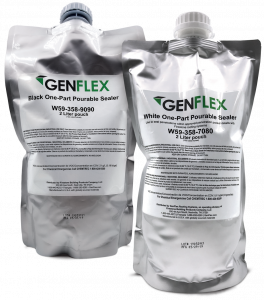 GenFlex One-Part Pourable Sealer, which is available in black or white for use on EPDM and TPO roofing installations, is a liquid flashing solution that when combined with UltraFlashTM Fabric requires no mixing to simplify application.*
FEATURES AND BENEFITS
No measuring and no mixing so it reduces installation time and eliminates the risk of incorrect preparation
Resealable packaging can be saved to use within 30 days*
Water resistant in 90 minutes.** Quick application and cure times enable flashing details to be completed efficiently, optimizing labor resources
Included in GenFlex's Limited Warranty† for up to 20 years when used as a complete flashing system with liquid and fabric
For more information view our One-Part Pourable Sealer Sell Sheet.
See PDS sheet for installation instructions. ** According to lab testing. † Conditions apply. See Genflex.com/warranty for details.  
---
GenFlex partners with Metal Era for roof edges, gutters and downspouts that may be necessary to your roofing projects.  For more information on these products, click here.
Sell Sheets / Brochures:
One-Part Pourable Sealer Sell Sheet
Vapor Shield Membrane Sell Sheet
For a complete list of submittal sheets, training videos, and other tools, click here.