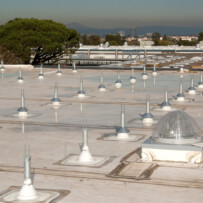 Economics:
The U.S. Census Bureau reported in May that during the first three months of this year, construction spending equaled $240.4 billion, 9.1 percent (±1.5%) above the $220.3 billion for the same period in 2015.
Housing is steady, non-residential cools off after big March gains:
Using the numbers available from the Census Bureau, we computed that the seasonally-adjusted average number of building permits for privately-owned housing units for the first four months of 2016 were very close to last year's numbers, with a slight increase in the Western United States. However, April's 2016 building permit numbers were lower than last year.
Dodge Data & Analytics is reporting in its May 18th press release that nonresidential construction starts also fell in April, but that is compared to a sharp increase that was experienced in March. The decline in April's permits and starts may be blamed in part on the rockiness of the stock market earlier this year causing some economic uncertainty.
Manufacturing construction lags, but offices and hotels pick up the slack:
Drilling down on the Census Bureau numbers to look at construction spending that might be of greater interest to GenFlex customers, it appears that commercial construction spending in March increased 14.5 percent over last year, manufacturing construction spending was down 2.1 percent, office construction spending increased 19.5 percent, lodging construction increased 27.7 percent, and healthcare construction spending increased 4.1 percent.
These are good numbers, but April's Census Bureau numbers may come in lower as indicated by the lower nonresidential construction starts reported. On the bright side while, in general, commercial building fell in April, Dodge Data & Analytics is also reporting that warehouse construction was up 15 percent and office building construction was also up 8 percent.
AIA stays positive, the Sunbelt stays strong:
For another perspective, the American Institute of Architects reported that April's Architecture Billings Index (ABI), although down from March, was still positive.  Looking ahead to future business, they reported that new project inquires also fell in April. But on a positive note their index for new design contracts was the highest since last summer. Read more about this in their May 18, 2016 press release.
Since the first four months have not been a straight line on the graph in any one direction, it is harder to predict exactly what the second half of 2016 will look like. However, overall the numbers look good on the average, and April may be remembered as a speed bump in an otherwise fast-paced construction season.
Anthony Salvatore, GenFlex's Vice President of Sales, also anticipates continued market strength in the second half of 2016, led by the Southern and Western states. "With our increased market representation and vast base of distribution partners, we are poised to take advantage of this market opportunity," Salvatore states.
Product Trends:
In the second half of the year, GenFlex expects growing adoption of its new GenFlex EZ TPO Peel & Stick™ membrane. Customers looking for ease of application and lower labor costs are turning to this product. GenFlex EZ TPO Peel & Stick goes on two to five times faster than standard fully-adhered systems, saving both time and money.
Technology Trends:
The use of commercial drones in the roofing industry is expected to grow. We will further explore this topic in a future article.
To stay current with industry news and trends, be sure to follow GenFlex on Facebook, LinkedIn and Twitter.