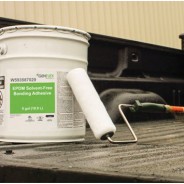 New adhesives eliminate odor and emissions, with easier installation – giving contractors more flexibility on the jobsite INDIANAPOLIS & LAS VEGAS, February 28, 2017 – GenFlex Roofing Systems, a leader in roofing products and service for professional roofers for more than three decades, will showcase its latest energy- and labor-saving...
read more
GenFlex Roofing launches new and improved low-temperature EZ TPO Peel & Stick membrane: Extends the roofing installation window for contractors down to 20 degrees Fahrenheit INDIANAPOLIS, Ind., February 12, 2015 – GenFlex Roofing Systems, a leading supplier of single-ply commercial roofing products, has introduced an enhanced...
read more
GenFlex Roofing Systems Unveils New Branding at the Western Roofing Expo Indianapolis, Ind., June 17, 2013 – GenFlex, a brand with a 30-year heritage in the roofing industry, unveiled a new look and messaging at the Western States Roofing Contractors Association's Western Roofing Expo in Reno, Nev. With an updated logo, revised...
read more
The Benefits of a Good Contractor-Distributor Relationship Tuesday, December 08, 2009 Both contractors and distributors know that the roofing business may as well be called the relationship business. And the best ones know that mutual trust is something that must be earned and maintained — not taken for granted — especially today. Dick...
read more