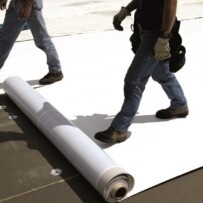 Beginning in the 1960s, prior to the introduction of Thermoplastic Polyolefin (TPO) in the US market, Polyvinyl Chloride (PVC) was the single-ply thermoplastic roofing system that was mainly used. PVC was known for its versatility since it could be molded to fit varying roof structures and could withstand chemical, light and temperature corrosion. However, PVC includes plasticizer additives to give it more flexibility, so after years of use, the plasticizers would break down, wash away and add chemicals to the soil. It also encourages mold growth and is affected by the weather over time, leading to roof shrinkage and cracking. These shortcomings lead to manufacturers conducting research in an effort to find a resilient solution that maintains the moldable characteristics and improves durability but eliminates the chemicals that damage the environment. The answer was TPO.
TPO membranes were first introduced in Europe in 1991 with the name FPO (Flexible Polyolefin). In the early 1990s, TPO arrived in the US market. Afterwards, TPO became a popular selection because it is durable, cost-effective, ultraviolet- (UV) and heat-resistant, and energy efficient. TPO now accounts for more than 40 percent of installed commercial roofing membrane in the U.S. Since 2013, nearly 1.2 billion square feet of TPO has been installed.
TPO is a single-ply, heat-resistant blend of plastic, ethylene/propylene rubber and reinforcing filler materials such as fiberglass. TPO formulas also include UV light stabilizers, fire retardants, pigments, antioxidants and heat stabilizers. This single-ply thermoplastic roofing membrane can be heat-welded to provide superior seams. TPO uses a plasticizer-free chemical structure. It is, now, widely used because it is very durable and does not break down easily, it's safer for the environment, and cost effective. It fights mold growth, deters tears, cracks, dirt and punctures. TPO successfully withstands the elements and reflects UV rays away from buildings to keep the interior cool, earning the "cool roof" label, as manufacturers continually enhance it.
GenFlex has contributed to TPO improvements by introducing the following:
In 1996, GenFlex developed the first 12-foot wide TPO sheets that meet industry code requirements. This development reduced installation costs, as it took less time to heat the remaining seams.
In 2003, GenFlex launched the revolutionary "Peel & Stick™" system, which is one of the most significant advancements in roofing over the past decade. The system uses pre-applied adhesive and tape, making installation faster, easier and free of Volatile Organic Compounds (VOCs).
In 2015, GenFlex released an improvement to the EZ TPO Peel and Stick™ with advanced adhesion technology.
GenFlex offers a wide selection of TPO products to fit all your needs. Visit /products/tpo for more information about GenFlex EZ TPO single-ply roofing systems.