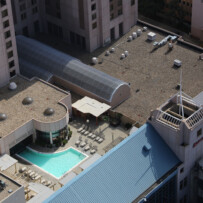 You may not think that a roofing system developed almost fifty years ago could be environmentally friendly. While it's true not many people were thinking green back then, it turns out ballasted roofs are indeed eco-friendly and worth a look.
Ballasted roofs consist of thermal insulation boards (such as the GenFlex Polyiso product), EPDM single‑ply membrane (such as GenFlex FRM EPDM or AFR EPDM), and are topped with smooth, river‑washed stone or concrete pavers. They are easy and quick to install since they require no fasteners and no adhesives, which can be a source of Volatile Organic Compounds (VOCs). Ballasted roofs are also economical and long-lasting. The ballast material protects the membrane from harmful UV rays and severe weather such as hail storms. When it comes time to replace the roof, ballasted-roof materials can be readily reused and recycled. As an added benefit, when using pavers as ballasts, the roof can be designed for additional outdoor space for the building occupants.
And, Yes They Are Cool!
The Single-Ply Roofing Industry (SPRI) commissioned Oak Ridge National Laboratory (ORNL) to study the energy performance of ballasted roofs. The results of their three-year study* concluded the following when compared to white-reflective and plain black roof systems:
"The cooling loads for the heavy [24 lb./sq. ft.] and medium [17 lb./sq. ft.] stone-ballasted and uncoated paver-ballasted systems were approximately the same as for the white system."
"Cooling loads for the light weight [10 lb./ft.] stone systems were slightly larger than for the white system but significantly less than for the black system."
"Cooling loads for coated pavers with heavy and medium loading showed cooling loads significantly less than for the white system."
Following this study, the American Society of Heating, Refrigerating and Air-Conditioning Engineers (ASHRAE), the California Energy Commission's Title 24, and the Chicago Building Code have all recognized ballasted-EPDM roofs as a cool roof alternative. Additionally, the EPA "recognizes that ballasted EPDM roofing systems are a very effective means of significantly lowering the roof top surface temperature similar to reflective roofing products."
While there are many cool new choices these days for roofing systems, do not automatically rule out ballasted roofs just because it is a system that has been around for a while. Ballasted roofs are indeed cool, and there are many other reasons why a ballasted-roofing system is worth considering such as the ease of installation and no VOCs. Contact a GenFlex Sales Representative today to discuss GenFlex ballasted-roofing products.
*ORNL, Evaluating the Energy Performance of Ballasted Roof Systems, April 2008.