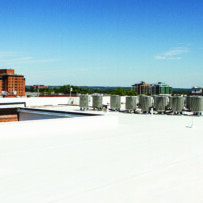 GenFlex proved to be a valuable partner for the roofing team as they worked on the VP3 Apartments in Cincinnati, Ohio. Situated near the east side of the University of Cincinnati, VP3 Apartments were a part of a revitalization effort in the community to provide additional housing in the area.
Downtown Cincinnati is receiving a $3 billion transformation in efforts to change the industrial feel of the city's urban space.
Uptown Rental Properties saw a need for additional housing near the University of Cincinnati and developed more than 40,000 square feet for the main apartment building and an additional 10,000 square feet in townhomes.
For this project, the team at Armor Services partnered with Midwest Roofing Supply to select GenFlex's 60 mil. white TPO roofing system with polyiso. The product was mechanically attached; this method is noted for its exceptional performance and its low installation cost.
Armor Services trusts the GenFlex product line so much that they use it for nearly all of their projects. "We have had a very pleasant experience working with GenFlex from pricing, submittals, product availability, and technical support. All aspects have been exceptional," said Tim Yacks, vice president of operations at Armor Services.
An additional goal for the construction project was to receive LEED® gold certification. The GenFlex white TPO products work to improve energy efficiency while meeting the stringent reflectance and remittance criteria used by the USGBC's LEED program, making it a great choice for the VP3 roofs.
The apartment complex was completed in time for students to move in for the start of the 2015-2016 school year.
To read more about this project and our other roofing projects, check out our project portfolio.
For more information on GenFlex products and programs, visit www.GenFlex.com – or to request training on product-specific installation and maintenance practices, click here.