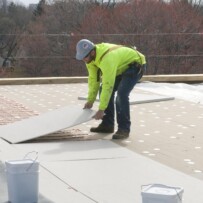 The trend of increasing commercial building energy efficiency is not going away anytime soon. More regulations and building codes are setting new standards for new construction projects. Energy efficiency is important to a building's long-term maintenance and operating costs, making it extremely important to building owners and facility managers.
In 2014, the Polyisocyanurate Insulation Manufacturers Association (PIMA) increased the Long Term Thermal Resistance (LTTR) values of polyiso roof insulation. Changes became a priority after more advanced testing methods were adopted that better predicted thermal performance over time.
The changes to LTTR values came about in order to provide a comprehensive approach resulting in increased reliability and consistency in predicting the long-term thermal performance of polyiso. A more stringent certification results in creating greater value behind approved products. To better understand the changes to the LTTR values, read through our LTTR Values technical bulletin.
Another building code, ASHRAE 90.1, updated in 2013 details minimum energy-efficiency requirements needed for new building design and construction and updates to systems and equipment in existing buildings.
Originally, ASHRAE 90 was developed in 1975 but has been revised four times with the most recent changes in 2013. For more information about this change in regulations, check out the ASHRAE website.
GenFlex Polyiso has maintained its level of quality and durability to meet the stringent demands of modern building codes. Our polyiso is one of the most effective and economical insulation products in the industry.
Within our insulation line, we offer a number of options to meet your needs including flat, tapered, high-density, and composite polyiso. To learn more about our polyiso product line, click here.
For more information on GenFlex products and programs, visit www.GenFlex.com – to request training on product-specific installation and maintenance practices, click here.