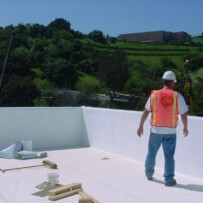 Everything from building codes and energy efficiency standards and trends to new roofing technologies and the economy are sure to impact your business in 2016.
The 2016 Dodge Construction Outlook predicts an approximate 6 percent rise in construction starts for the year, but many outside factors can impact this number such as lending costs and material prices. Multifamily housing and commercial building spaces are anticipated to be some of the top sectors for growth.
In October, you can expect to see LEED® v4 take effect. What does this mean for your business? Green building practices are becoming increasingly popular in the United States and internationally, making it important to stay updated on the future of sustainability in building design. The push for greater energy efficiency in buildings will require further educational resources for the industry. Learn more about the USGBC and LEED v4 on this website.
Stay ahead of the curve with these tips:
Attend tradeshows and workshops. By attending seminars and tradeshows, it is much easier to stay on top of industry trends and building standards. Attending tradeshows also offers great opportunities to network and learn more about specific companies and their newest products. For a complete list of the events where you can find GenFlex in 2016, check out our calendar.
Stay current with roofing product information. That might mean scheduling a free hands-on training program with your GenFlex representative, or signing up for your first course on GenFlex University. By staying up-to-date on the products that you regularly use on the job, you will be able to make better-informed decisions as energy efficiency standards and building codes change. As a dedicated partner to the roofing industry, GenFlex works to bring educational resources that are both accessible and informative.
For more information on GenFlex products and programs, visit www.GenFlex.com – or to request training on product-specific installation and maintenance practices, click here.