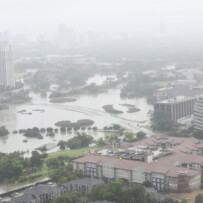 Harvey reached landfall Friday, August 25 as a Category 4 hurricane, causing record levels of destruction, tragedy and economic loss in southeastern Texas. By the time it decreased to a tropical depression, the Beaumont and Port Arthur regions had received approximately 30"of rainfall.
As of August 31, the damage was ongoing. According to NBC News, at least 29 people had died, and more than 32,000 Texans were in shelters. Thousands of people were still missing, and almost 210,000 people had applied for federal assistance.  Southeastern Texas and southwestern Louisiana are expected to be submerged under several feet of water for a protracted amount of time. Economists consulted by NBC News estimated losses between $48 billion to $75 billion. RMS, a global risk modeling and analytics firm, estimated that losses caused by wind, storm surge and inland flood could be as high as $70 to $90 billion, mainly in the Houston metropolitan area.
How to Assess your Roof after Harvey
Roof damage from a hurricane may be caused by high winds and flying debris. If you know your building has sustained other damage, do not forget to have your roof inspected. Even if you do not suspect you have roof damage, it is a good idea to have your roof inspected by a professional roofer. Small punctures, minor damage to flashing and seam tearing, no matter how small, all can lead to major expenses if left unchecked.
How to Get Assistance
Your first business call after discovering Harvey damage has likely been to your insurance company. If not, do not put this off since the adjusters will be extremely busy and you will want to get on their list as soon as possible.
Beyond insurance there may be other help available. According to Forbes, business owners should contact the Federal Emergency Management Agency (FEMA) in order to be considered for all forms of disaster assistance. You can apply for assistance online at DisasterAssistance.gov or by calling (800)-621-3362/ TTY (800)-462-7585 (7AM to 11PM Eastern time).
You may qualify for a low-interest, long-term disaster loan from the U.S. Small Business Administration (SBA). Businesses (all sizes), and private non-profit groups, as well as homeowners and renters who need to replace uninsured property or under-insured property in Texas and Louisiana are eligible to apply. Contact SBA Disaster Loans at (800)-659-2955 (8AM to 9PM Eastern time), or e-mail them at disastercustomerservice@sba.gov. The SBA does not provide benefits for claims covered by FEMA or insurance.
How to Find a Contractor
Harvey has caused a great need to repair, stabilize, and replace damaged buildings. And yet even before Harvey raged through Houston, a survey by the Associated General Contractors of America reported by mySA noted the shortage of tradespeople in construction, particularly electricians and installers. This means contractors will be in very high demand with little availability. So how can you find a reputable contractor?
If your building has a GenFlex roof or you are considering replacing your roof with a high-quality GenFlex roofing system, you can find a GenFlex-authorized contractor here.  GenFlex ENERGY STAR roofing systems have been installed (over 1 billion square feet!) across the country on commercial and retail properties, as well as hospitals and schools.
GenFlex also has sales representatives throughout Texas and Louisiana to assist with any commercial roofing needs.
TEXAS:
HRG, LLC
Southeastern Texas
fred@hallsrepgroup.com
Phone: 281-888-7464
Fax: 281-888-7827
UPLAND CORPORATION
El Paso, Texas
sgendron@uplandteam.com
Phone: 800-678-8902 or 505-266-3800
Fax: 505-266-0100
C-CAP (Contractor's Commercial Architectural Products)
North and South Central Texas, San Antonio
jgibson@c-capreps.com
Phone: 972-353-8820
Fax: 972-353-5859
LOUISIANA:
Daigle Sales Group, LLC
Covington, LA
rene@daiglegroup.com
Phone: 985-302-1106
Fax: 225-208-1820