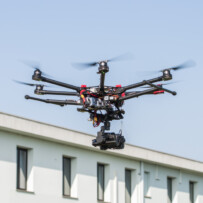 There has been talk about using drones, also referred to as Unmanned Aircraft Systems (UAS ), in commercial roofing for at least a couple of years now. Only a limited number of companies around the nation have adopted them. And, some of those have notably used them outside the law since commercial use of drones has been forbidden and required an exemption from the Federal Aviation Administration (FAA).
However, the new Small UAS Rule becomes effective in August 2016, and with it this exception is no longer required. It also no longer requires a second person to act as a visual observer (VO) or spotter, which was formerly a requirement for commercial operation.
Benefits of Using a Drone for your Roofing Business
Here are some of the reasons why you may want to consider using a drone:
Estimating/inspecting—It can be faster and safer to use a drone to do a visual check of a large or steep roof.
Customer Information—Photos or video documenting damage to a roof is a great way to show a client exactly what needs attention. The photos or video can be included as part of an estimate you provide.
Project Management—Drones can be used at different stages of a large project to determine its progress, aid in project plan development, and provide a means to produce progress updates for a client.
Marketing Edge—having aerial videos of your jobs online can aid in marketing your business. It also demonstrates that your company is keeping up with the latest technology to provide the highest customer service.
Although these are good reasons to get started, be sure to do your homework before rushing out to buy a drone. There are still a lot of factors to consider. While the FAA has come out with clear rules they want you to follow, state and local regulation also apply.
Which Type of Drone is best for you?
Not all drones are alike. An inexpensive hobby drone is probably not suitable for commercial use. You will need to do your research when shopping for a commercial drone. You will probably want one that uses GPS and associated locating technologies, and can be preprogrammed with a flight plan that keeps you within property limits. Also, look for collision avoidance technology such as a LiDAR (Light Detection and Ranging) system. Of course, you want high-definition video/photography capability, as well.
There is no doubt that commercial drone technology is now a part of our industry. We expect the technology to evolve and take on additional tasks. In the future, they may even help on the job site lifting materials onto a roof. However, as with any new technology the benefits might be appealing but know what you are getting into before proceeding. Remember to take your time to do your research and due diligence. Below are some resources you may find valuable.
External Links:
Summary of Small Unmanned Aircraft Rule (Part 107)
FAA Site, Fly for Work/Business
Current Unmanned Aircraft State Law Landscape
Property Drone Consortium (includes the construction industry)