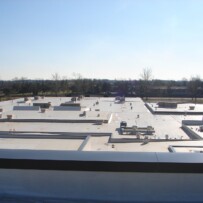 The roof is often times your building's first layer of protection against environmental elements, but it is also indispensable to your building's overall energy efficiency. Energy consumption rates continue to climb, making it more important than ever to focus on ways to reduce a building's energy needs.
Selecting the best roofing materials for the project can greatly improve a building's overall energy efficiency. While a cool roof membrane will work to keep a facility's cooling cost lower during the summer, many parts of the country find great relief with a product more conducive to heat reflectivity.
Read more about how GenFlex is doing its part to stay up-to-date with energy-efficiency standards in our recent post, GenFlex practices Energy Action Month all year.
As Energy Action Month wraps up, it is a good time to reflect on simple actions that can drive a building's energy consumption down. Check out these tips on how you can keep your building's energy consumption rate lower throughout the whole year:
Install energy-efficient lighting and occupancy sensors
Check for ways to control solar gain to reduce cooling loads in the summer, i.e. cool roof membranes
Educate building occupants on energy efficiency measures
Lower thermostat settings
Remove excess light sources from areas with adequate natural light
Use Energy Star-certified products endorsed by the EPA
The U.S. Department of Energy offers an interactive checklist of energy-saving tips on its website. Looking for more ideas on how you can conserve energy? Follow #EnergySavingsTips and #EnergyActionMonth on Twitter.
For more information on GenFlex products and programs, visit www.GenFlex.com – or to request training on product-specific installation and maintenance practices, click here.