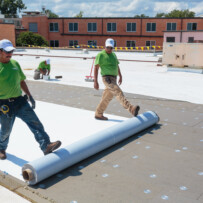 When a member of the Broadmoor Church in Shreveport, Louisiana donated money to replace the 20-year-old roof, the project came to life in the summer of 2015. The church's 17,500-square-foot building was prone to leaks and held two existing roofs, making it clear that it was time to replace the roof.
Roofing contractor Steve Kinel, and his team from Corporate Roofing, led this project but worked closely with GenFlex distributor Bill Henderson, of Riverside Roofing Materials, and GenFlex sales representative, Chuck Steiner.
The Broadmoor Church hosts many occupants on a regular basis, including a daycare, so it was extremely important that the roofing team find the right product to ensure a speedy and safe installation. After Kinel was introduced to the new and improved GenFlex EZ TPO Peel & Stick membrane with advanced adhesion technology at the International Roofing Expo (IRE), he knew it was a great fit for the project. The TPO product with new, advanced adhesion technology boasts no VOCs, no odors and no chemicals for mixing, while also promising a speedier installation process and a bond twice as strong as the nearest self-adhered membrane competitor.
"One of the largest areas of the roof houses the infant daycare and the Mother's Day Out Program. Not having to use solvent-based bonding adhesives on this project was a win-win for everyone," said Kinel.
Speedy installation leads to seamless performance
The new and improved GenFlex product removes the need for priming and waiting for flash off, which can speed up the installation process by as much as two to five times when compared to a standard fully adhered installation.
"Our experience working with GenFlex has been great, and this project was no exception. We had no installation issues," added Kinel.
GenFlex Roofing Systems has built its reputation for superior performance and a flexible, hardworking partner with its more than one billion square feet of roofing membrane installed over the last three decades.
To read more about this project and our other recent roofing projects, check out the project portfolio.
For more information on GenFlex products and programs, visit www.GenFlex.com – or to request training on product-specific installation and maintenance practices, click here.