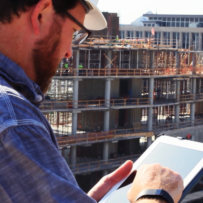 On the job and on the go, as a roofing contractor, GenFlex recognizes how inconvenient it is to carry all of your technical documents with you. That's why we offer the GenFlex technical app. Now you have access to all the technical information you might need at the touch of a screen.
The easy-to-use app allows one-touch access to product specifications, safety and product data sheets for our EPDM and TPO roofing membranes, drawings, insulations, fasteners and sealants. The app also provides an up-to-date library of building codes.
Additionally, the GenFlex app offers other time-saving features including the ability to print or share documents via email. You can also save your most used files to your tablet or device with a single tap.
To download the iOS version of the GenFlex app for free, visit the iTunes App Store.
Not sure how to use the app? Check out the video below for a quick tutorial.
For more information on GenFlex products and programs, visit www.GenFlex.com – or to request training on product-specific installation and maintenance practices, click here.