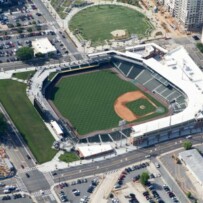 The 2014 season was an exciting one for the Charlotte Knights, the triple-A affiliate of the Chicago White Sox.  Along with the action on the diamond, it was the start of a new era for the franchise – the inaugural season in the team's brand-new home, BB&T Ballpark.
The $55 million, state-of-the-art stadium was a hit with fans, who came in record numbers to see the Knights face down International League opposition.  The team led all of minor league baseball in attendance, drawing 687,715 attendees to its 71 games, including 31 sellouts.[1]  The Ballpark also served as the neutral site host of the Triple-A National Championship Game, and gathered rave reviews from beyond the Knights' fan base – Stadium Journey magazine called the park a "must-see."
Of course, these accolades focused on the overall aesthetics and amenities of the ballpark – the expansive views of the Charlotte skyline, the comfort of the seats and generosity of the concessions.
Roofing doesn't attract this kind of attention, and shouldn't: Commercial roofing should blend seamlessly with the overall design of the building, standing up to the elements while delivering energy efficiency and durability that may escape the notice of the typical tenant – or baseball fan – but command the respect of architects, engineers and facility managers.
That's the high standard that GenFlex Roofing Systems has met for more than thirty years, protecting offices, factories, hospitals and schools across the country – and now BB&T Stadium.
Hard-working roof, high-performance stadium
For BB&T Ballpark, Baker Roofing installed 77,000 square feet of 80 mil. GenFlex white TPO, in an adhered system that covered multiple roof areas – enclosed offices, luxury boxes, ticketing and concession areas, as well as overhanging coverage for portions of the infield seating.
The TPO membrane was paired with a double-layer of 2.5 inch GenFlex ISO insulation over steel decking.   This polyiso foam and fiber-bonded thermal insulation provides better R-value performance per inch than other roofing insulations, while providing additional impact protection, fire and moisture resistance.
The white TPO membrane provides excellent solar reflectance, diverting the sunlight during hot North Carolina summers to keep interior offices cool and fans more comfortable during afternoon games.  Combined with the ISO insulation, it created a highly-efficient, extremely durable system that reduces energy and maintenance costs.
To read more about the Charlott Knights' stadium project, check out our Project Portfolio.
For more information on GenFlex products and programs, visit www.GenFlex.com – to request training on product-specific installation and maintenance practices, click here. 
[1] Charlotte Business Journal