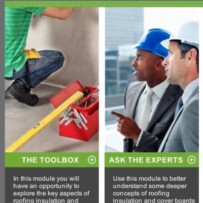 GenFlex launched of an exciting new resource:  GenFlex University / an online education resource available through the GenFlex website.
GenFlex University is offered free to roofing industry professionals – at GenFlex.com/university. New  courses are available including EPDM Roofing Systems, Thermoplastic Roofing Systems, and Roofing Insulation and Cover Boards. Each  interactive course  features audio and text, graphics, animation and videos to help users work through hypothetical situations and answer questions about  product options  and recommended installation methods.
As a dedicated partner to the roofing industry, GenFlex saw a need for an online educational resource, and delivered an interactive online product as a result. In addition to offering in-person training, GenFlex training is now conveniently available 24/7 via GenFlex University.
As an added benefit to completing a course on GenFlex University, users can earn AIA / RCI – compliant continuing education credits.
Register for your first course today on GenFlex.com (link to GenFlex University) or to read the full press release about GenFlex University, check out our Press Releases.
For more information on GenFlex products and programs, visit www.GenFlex.com – to request training on product-specific installation and maintenance practices, click here.