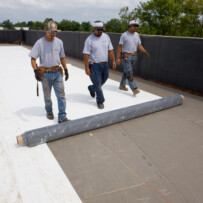 President Obama declared October Energy Action Month as part of an overall federal agency initiative to reduce energy consumption. Every year, commercial buildings represent nearly one-fifth of all U.S. energy consumption, according to the Department of Energy.
In the commercial sector, the top three end uses of energy consumption include space heating, lighting and space cooling. Combined, these three components represent approximately half of all commercial building energy consumption. To go along with this, commercial energy consumption grew between 58 percent and 69 percent from 1980 to 2009 and continues to rise.
In more recent years, LEED® certification and the WELL Building Standard® are on the rise, and building owners are incentivized with tax breaks to make new construction more energy efficient. They are also encouraged to retrofit older buildings to create a more "green" working environment.
To help keep the industry moving forward, GenFlex thinks of every month as "Energy Action Month" and that shows in its product offerings. GenFlex released a new self-adhering TPO membrane earlier this year that emits zero grams of VOC compared to the 600-700 grams/liter associated with a standard bonding adhesive.
GenFlex also offers a White TPO and White EPDM that meet the Solar Reflectance and Solar Reflectance Index measures established by the Cool Roof Rating Council. Both products are Energy Star® certified and will qualify for points under LEED v4, which is set to take effect in 2016.
Energy efficiency doesn't stop at the roofing membrane; GenFlex also provides a lineup of roofing insulation that adds to the building's high-efficient roof. GenFlex polyiso supports an energy-efficiency initiative because it creates a higher R-value per inch than many other comparable roofing insulations. The GenFlex HD ISO board, with an R-value of 2.5, enhances the roof's thermal performance better than any ½ inch wood fiber board, ¼ inch glass-faced ISO, or ¼ inch glass mat-faced gypsum board.
GenFlex works to provide the best energy-efficient solution for every project. Read more about how GenFlex was able to assist the VP3 Apartments in Cincinnati, Ohio achieve LEED Gold certification in this project profile.
For more information on GenFlex products and programs, visit www.GenFlex.com – or to request training on product-specific installation and maintenance practices, click here.