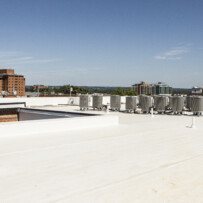 April 22 marks Earth Day and all through April, Earth month is celebrated as a time to be more conscious of the environmental footprint we leave in our daily lives.
In the construction industry, the move towards "green" buildings is becoming increasingly popular, especially as we see agencies such as the Environmental Protection Agency (EPA) and the United States Green Building Council (USGBC) leading the way with new guidelines and training materials. For those of us in the roofing sector, we think of being "green" with the products we use and the practices we follow.
Here are a few tips to help keep you "green" this month and through the rest of year:
Use environmentally friendly products. This year, you will see LEED® v4 take effect. Green building practices are becoming increasingly popular, making it important for roofing professionals to stay updated on current trends. Products such as GenFlex™ EZ TPO Peel & Stick™ membrane allow you to use safe materials that emit near zero VOCs. A standard bonding adhesive emits 600 – 700 grams of VOC per liter, and a low-VOC bonding adhesive emits 200 – 250 grams per liter, but GenFlex EZ TPO Peel & Stick membrane emits near 0 grams. This makes the product safer for installation. In addition to TPO products, GenFlex offers a variety of low-VOC adhesives, primers and caulks.
Go green with your technical documents. Instead of printing paper versions of roofing material spec sheets, take advantage of tools such as the GenFlex technical app. The technical app includes TIS and SDS documents, drawings, guides, codes and more. It also allows you to save documents to your device, so they are available even when you do not have a Wi-Fi connection. Available on the Apple App Store.
Keep learning online. Earn continuing education credits with our online, interactive GenFlex University courses. This helps you save on printed materials, while also learning valuable information that will be useful when planning your next roofing project.
The "going green" trend is important to building owners, occupants and contractors alike.  Stay tuned for more tips on remaining environmentally friendly this year, and rest assured that GenFlex has the tools to help you succeed.
For more information on GenFlex products and programs, visit www.GenFlex.com – or to request training on product-specific installation and maintenance practices, click here.