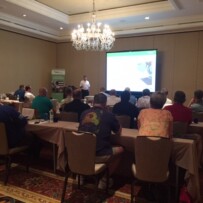 There are many different things you can do to grow your commercial roofing business—networking is one of them. While occasionally a quick sale may result, networking is more about developing awareness and relationships that can lead to sales either down the road or through referrals. Networking can also provide you with valuable knowledge to help grow your business.
As a commercial roofer, you should concentrate your networking on the following three groups:
• Potential Customers
• Related Businesses
• Members of the Roofing Industry
Potential Customers
Your potential customers likely include building owners, property management companies, and facility managers. There are local and national associations and groups that focus on these areas. A simple web search will result in multiple listings. Also, try zeroing in on particular types of property groups. There are organizations that focus on management of schools, healthcare, etc. Becoming established with a particular industry can really help you develop your business. Seek out and try to attend local meetings and events. Many of these types of groups also welcome guest speakers with specific expertise. By sharing your knowledge of roofing, it allows the group to recognize you as a trusted expert in the business. Make sure to bring up some of the recent, innovative products in your talks. After your presentation, you'll then have the opportunity to network with the attendees.
Related Businesses
Make sure to get to know other people in the building and construction industry. They may end up being your customers by employing your company as a sub-contractor. They may help you by providing knowledge of upcoming projects or they may have solid leads and referrals for you. So attend construction industry events, join local area groups and associations, or directly reach out to other related businesses and introduce yourself. Having as many friends in the construction and building industry as possible can only help. Remember, people like doing business with people who they already know.
Members of the Roofing Industry
Members of the roofing industry can include manufacturers like GenFlex, distributors, your competition, and other roofing companies that are not directly competing with you.
It is important to get to know your competition, understand what they are doing and familiarize yourself with what your customers and targets find to be the most helpful.
Other roofing companies that are not directly competing with you are definitely a group with which you should network. Industry events such as national and regional expos and conventions are a perfect place to meet these individuals. People are generally helpful in nature and love to talk about what they are doing that makes them successful, especially if they know you are not the competition. Ask them to share with you what works, and maybe more important, what doesn't. Ask them what they are doing in their area of the country that might be new or different. If you are relatively new in the business, make an effort to find an experienced mentor in the business. These are generally older people in the industry who want to share their years of knowledge and will gladly help you.
Your GenFlex sales representative can also be a valuable resource to help develop your business. They hold plenty of knowledge not only of the GenFlex line of roofing products, but of the industry in general. They are exposed to many different companies in the business and can share with you the trends they are seeing. So get to know your GenFlex sales rep and ask them for input. If you need help locating a GenFlex sales rep, click here. They will be glad to help. Remember, your success is our success.