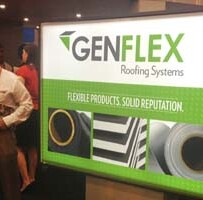 In its 129th year, the International Roofing Expo (IRE) is returning to Florida, and the anticipation for the show is building. More than 475 companies will be exhibiting at the Orange County Convention Center Feb. 17-19, and GenFlex is excited to be among them.
Featuring more than 44 sessions throughout the tradeshow this year, the wide range of topics includes: workplace safety, management, green building, legal, service and sales, and general business. Aside from the educational sessions, attendees have the opportunity to participate in a community service day and listen to keynote speaker, Dr. Beck Weathers.
With all the sessions and events to attend, don't forget to make a stop at the GenFlex booth, 1715. GenFlex representatives will be onsite to answer questions about GenFlex products, the GenFlex Technical App, GenFlex University and the exciting PERX Rewards Program for contractors. While you're at the booth, don't forget to let us scan your badge for a chance to win a FREE Smart Watch.
If you have not registered to attend IRE this year, click here.
2015 IRE Recap
Last year in the Big Easy, IRE saw the largest attendance since 2000, with 9,300+ exhibitors and attendees. During the show, a new and improved GenFlex product was unveiled: GenFlex EZ TPO Peel & Stick™ membrane with advanced adhesion technology. "The Peel & Stick membrane has been a great time-saver for contractors – no more hauling buckets of adhesive around the job site, mixing and waiting for flash off," said Eric Ziemba, Firestone southwest regional business manager . "And the new adhesive offers low and high-temperature installation, for a longer installation window and more jobs per year."
To check out more details about the GenFlex™ EZ TPO, stop by Booth 1715 for a demo at IRE – or click here.
We look forward to seeing you at the show. To see a list of events GenFlex will be attending in 2016, visit our online calendar.
For more information on GenFlex products and programs, visit www.GenFlex.com – or to request training on product-specific installation and maintenance practices, click here.