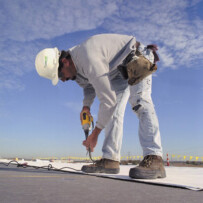 For many of us, last winter is still a recent – and unpleasant – memory.  But as we head into fall, it's already time to start planning for another blast of icy reality across much of the country.  Forecasters are predicting another visit from the dreaded 'Polar Vortex' across the Midwest and Northeast as soon as September, and the Rockies could also be in line for earlier-than-usual snowfalls.  And even though the South may avoid surprise snowfalls, there's a better-than-average chance of an El Nino system soaking the region with rain and storms that cause their own issues.
In short, summer's over for commercial building owners and facility managers.  Planning for harsh weather starts now, starting at the top: The roofing membrane serves as the first line of defense against the elements.  This is an opportunity for roofing professionals to be proactive partners.
Many facilities may task their own staff with performing a basic roof inspection as part of routine maintenance – but before the season turns, a more detailed examination by a roofing professional can address minor issues before they become major problems.  GenFlex Roofing Systems has a reputation for durability over three decades and more than a billion square feet of installed membrane, so we know what to look for on a low-slope commercial system:
Start with the basics: Clearing debris (and looking for resulting damage) and finding standing water (low-slope roofing systems should be designed to drain within 48-72 hours after rain); identifying obvious tears or punctures in the membrane.  Remember – commercial roofing systems should be built according to local building codes to withstand snow and ice loads based on the typical winter conditions for the area.  If portions of the roof are already sagging or uneven, another season of above-average snowfall will further compromise the integrity of the system or even lead to collapse – act now.
Focus on the seams: While the initial inspection will uncover any damage to the roofing membrane itself, a roofer's expertise really comes into play with a thorough check of the seams between membrane sheets.  Adhered EPDM sheets are typically 10-20' wide, and TPO sheets are available in 6', 8', 10' and 12' widths – so on a large commercial roof, there are considerable linear feet of seams.  Despite advances in adhesives and tapes, and double-weld seaming on mechanically-attached systems, these seams are still most susceptible to failure and leaks.
Aside from the seams, the flashings around the perimeter of the roof and any penetrations for vents, pipes, HVAC equipment, etc., bear careful examination.  Whenever the roof membrane meets inflexible metal, seams are especially vulnerable to tearing and moisture infiltration.
A thorough visual inspection by a trained professional can head off many issues that might otherwise worsen over the winter – but depending on the age of the roof and the anticipated severity of the season, circumstances may call for more precautions…look for more in our next post.   For more information on GenFlex products and programs, visit www.GenFlex.com – to request training on product-specific installation and maintenance practices, click here.