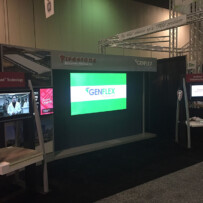 June 2016 was a busy month for roofing conventions. Both the east and west coasts had noteworthy tradeshows and expos.
FRSA Celebrated its 94th Convention
The Florida Roofing and Sheet Metal Contractors Association (FRSA) held its 94th annual convention and expo on June 16–18th this year at the Orange County Convention Center in Orlando, FL and the Hyatt Regency Orlando. According to FRSA, this was the largest regional roofing show in the country with more than 200 exhibitors in 350+ booths.
Included as part of the event were auctions supporting the FRSA Educational and Research Foundation, multiple sporting tournaments, and educational seminars. GenFlex Sales Rep, Chris Newell, had a positive impression. He said it was a great networking opportunity where he was able to meet current and potential customers. GenFlex also had great show promotions and a Smart Watch giveaway that was popular with attendees. Newell expects next year's show to be even better.
Western Roofing Expo sets new attendance record
The Western States Roofing Contractors Association's (WSRCA) Western Roofing Expo was held at the Paris Las Vegas Hotel and Casino on June 12–14th. The 42nd annual convention and trade show had the highest attendance in its history with 3,511 attendees.
The event included golf and sporting clays tournaments, social events, as well as fund raisers for the Davis Memorial Foundation supporting higher education related to the construction industry. And, the event included seminars covering current issues in the roofing industry. GenFlex was well represented at the show by both Marty Pribble, West Regional Business Manager, and Dave DeBettignies, Northwest Regional Business Manager, as well as product managers for ISO and TPO product lines. Marty Pribble reports that the show was a great venue to showcase GenFlex's innovative EZ TPO Peel & Stick™ self-adhering membrane. "There was great booth traffic, and it was a good opportunity to meet face-to-face with our customers who attended the event," says Pribble.
Plan to attend next year's shows. The 2017 Western Roofing Expo will be held at the same venue on June 11–13, 2017. And, the FRSA 95th annual show will be held June 22–24, 2017 at the Hyatt Regency Orlando and the Orange County Convention Center.