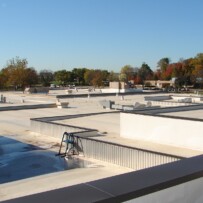 The roof is often times your building's first layer of defense against the weather elements, standing up to extreme UV light, heavy snow, and rain. Even a regular maintenance trip to the roof can result in something being dropped on the surface.
Common punctures to your roof can happen in a variety of ways with objects hitting the roof at high and low rates of speed. Single-ply membranes do not have a hard exterior layer, so they may seem less resistant to damage on the surface, but many factors go into selecting the right roofing membrane that will stand the test of time.
To help ensure your roof is up to par, your roofing contractor will generally work with their roofing distributor, the general contractor, and the building owner to determine the best roofing membrane given your situation. The right products will leave you with the toughest, strongest roof.
Some areas of consideration for developing the strongest roof will include:
EPDM vs. TPO: Depending on the region where your building is located, your roofing contractor may prefer either EPDM or TPO. GenFlex EPDM, noted for its durability and flexibility, is offered in both 45 mil. and 60 mil. On the other hand, the TPO roofing membrane, a high quality thermoplastic polyolefin, is the fastest growing segment in the low-slope roofing industry for a reason, and it's available in gray tan and white providing heat reflectivity and energy efficiency. GenFlex TPO is also offered in 45 mil. and 60 mil.
Insulation: The right insulation can work to improve both the R-value and building energy efficiency. GenFlex's Polyiso is designed for both new construction and re-roofing projects to improve both impact and flame resistance. Roofing contractors will select an insulation that meets any set R-values for your region.
Installation method: You may have an irregular-shaped building that requires a fully adhered method, or maybe you need a quick, no hassle installation with a ballasted install. The right installation method will finish out the strength and long-term durability of your roof.
All of the considered criteria are combined to create the ideal strength of roof for your commercial building. To learn more about the GenFlex product lineup, check out our individual product pages on the GenFlex website, or use our Expert Locator to find your nearest GenFlex contractor or distributor.
For more information on GenFlex products and programs, visit www.GenFlex.com – or to request training on product-specific installation and maintenance practices, click here.