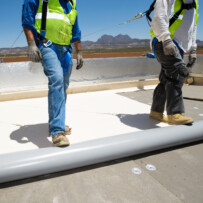 It's no secret that a building's energy efficiency and performance are greatly affected by the materials that are used to construct the building. It's also no secret that selecting the best roofing system for your building can have a significant impact on the building's cooling costs.
Reflective roofing materials protect a building from extreme heat in the summer and reduce surface temperature on the roof by as much as 30 percent, according to Facility Maintenance Decisions magazine.
Studies have indicated that reflective surfaces will cool the building in the summer, decreasing the use of air conditioning and, in turn, decrease cooling costs. In fact, in certain geographic regions, the GenFlex TPO cool roof system stays 50⁰ to 60⁰ F cooler at peak times than traditional roofing membranes.
In addition to the savings on cooling costs, the reduced energy needs by using a TPO roofing system allows for a more environmentally friendly building, all while keeping the building's occupants comfortable in the extreme heat of the summer.
Check out the two most recent GenFlex project profiles, the BB&T Ballpark and the two Virginia high schools, that found cost-effective cooling relief for their facilities with a TPO membrane roofing system. The BB&T Stadium needed a way to keep fans cool during the minor league team's summer games. The two Virginia schools found a partner in GenFlex's TPO membrane to help with the school building's energy efficiency costs.
For more information on GenFlex products and programs, visit
www.GenFlex.com
– or to request training on product-specific installation and maintenance practices,
click here
.