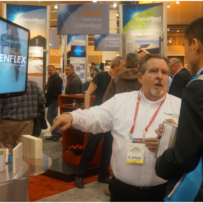 GenFlex used one of the largest roofing expos in the world, the 2015 International Roofing Expo (IRE) in New Orleans, to launch an industry-first adhesive technology. The GenFlex EZ TPO Peel & Stick™ membrane is the first ever self-adhered TPO system that can be installed in temperatures as low as 20 degrees Fahrenheit and as high as 120 degrees Fahrenheit. This improved self-adhesive formula gives roofers a much wider installation window – for more productive, profitable crews.
"The Peel & Stick membrane has been a great time-saver for contractors – no more hauling buckets of adhesive around the job site, mixing and waiting for flash off," said Eric Ziemba, General Manager for GenFlex. "But what makes this a game changer is the incredibly wide installation window – allowing contractors to complete more roofs per season."
EZ TPO Peel & Stick was on display at IRE, February 24-26, 2015. The annual tradeshow and conference brought over 9,337 roofing construction professionals together, making it a prime opportunity to launch the new product.
GenFlex™ EZ TPO Peel & Stick membrane with the enhanced adhesive formula is now available through GenFlex authorized distributors.
To learn more, visit the Press Release page and the Peel & Stick membrane product page for detailed product information.
For more information on GenFlex products and programs, visit www.GenFlex.com – to request training on product-specific installation and maintenance practices, click here.