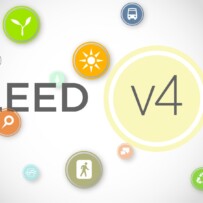 The United States Green Building Council (USGBC) has decided to extend the usage of the LEED 2009 rating system until October 31, 2016. Originally, the shift to LEED v4 was set to take place in June 2014 and then extended to 2015, but now LEED 2009 registration will continue on until the second half of 2016.
This extension will allow users more time to prepare for the changes that are bound to come with LEED v4. At the latest Greenbuild conference, a survey indicated that over 60% of recipients are not sure they are ready to pursue LEED v4 certification, according to a Buildings article. Many recipients also felt that more time for preparation would be needed in order to pursue the new certification.
The long-term goal of the USGBC is to further sustainable building practices via the switch to LEED v4 certification. You can learn more about the USGBC and LEED v4 on the USGBC website.
Green building practices are becoming increasingly popular in the United States and internationally, making it important to stay updated on the future of sustainability in building design.
For more information on GenFlex products and programs, visit www.GenFlex.com – to request training on product-specific installation and maintenance practices, click here.