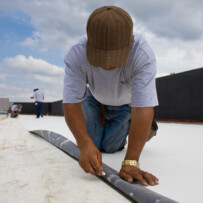 Every year the National Roofing Contractors Association (NRCA) organizes National Roofing Week to highlight the importance of roofing professionals in quality construction and building performance, as well as the role of proper maintenance. It is also an opportunity to spotlight the industry's positive impact in the form of charitable projects, along with contributions to energy savings and sustainable buildings.
This year, the week begins on June 5 and ends June 11. This is a great occasion for our GenFlex authorized contractors to tell your stories.  Let's face it: Roofing is overhead, but rarely top of mind – unless something goes wrong.  National Roofing Week is our chance to talk about how professional roofers and preventative care lead to a reliable roofing system.
We suggest contacting your local media outlets to see if they are interested in doing a piece in connection with National Roofing Week. Here are a few ideas you could suggest:
Video or tutorial regarding the signs of wear that a property owner can look for to indicate it is time to perform roof maintenance or replacement. You could point out damaged flashing, torn seams, storm damage, etc. This can also be shared on social media.
A piece on the importance of using trained professional roofing contractors, like those who are members of NRCA or authorized GenFlex contractors, to perform roofing work that is so critical to any home or building.
A piece on green innovations in our industry like GenFlex's White TPO membranes, that are solar reflective to cut summer air conditioning costs. The self-adhering GenFlex EZ TPO Peel & Stick™ membrane that emits zero grams of volatile organic compounds (VOCs) is another great advance – as summer settles in, allergy sufferers may be starting to sniffle…but VOCs are also shown to inflame conditions like asthma and certain allergies.
At GenFlex, we know that many of our customers also perform charitable work in their local communities. National Roofing Week is an opportunity to promote good will with the public by highlighting some of those deeds. If your business or one or more of your crew have contributed time, labor, or raised money for a worthy cause, especially if it involved roofing, such as a Habitat for Humanity® project, make it known. Social Media is a great way to do so and help spread the word. National Roofing Week is a chance to acknowledge the good works of your crew members or to bring some welcomed attention to our industry.
NRCA is also promoting a social media campaign in connection to National Roofing Week. NRCA encourages members to use the hashtag #nationalroofingweek and share photos that highlight different themes for each day of the week. The daily themes include June 6th for sharing charitable projects, June 7th to salute your crew and staff, and June 8th for sharing how you train your team.
As you can see, there are many avenues of participation in National Roofing Week. We encourage our GenFlex authorized contractors to consider participating. And in the spirit of National Roofing Week, GenFlex salutes professional roofing contractors and acknowledges the important role they perform in our communities!
For more information on National Roofing Week and the activities mentioned in this article, see //www.nrca.net/National-Roofing-Week.
To see how GenFlex is celebrating National Roofing Week, be sure to follow us on Facebook, LinkedIn and Twitter.