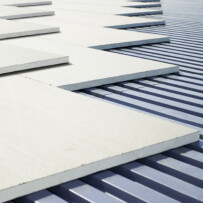 The U.S. Department of Energy has named October Energy Action Month, asking federal agencies to highlight efforts to save energy throughout government, while encouraging the public to do the same. At GenFlex, we like to think of every month as an energy action month – our roofing products contribute to more energy-efficient schools, offices, factories and more.
For example, GenFlex polyiso insulation boards deliver a higher R-value per inch than most comparative roofing insulations; HD ISO board, with an R-value of 2.5, provides better thermal performance than any ½" wood fiber, glass-faced ISO, or glass mat-faced gypsum boards to keep energy from leaking through the roof deck and into the atmosphere.
GenFlex also offers both White TPO and White EPDM products that reflect sunlight, keeping heat out of buildings in the summer for increased energy efficiency.  Both White TPO and White EPDM meet the Solar Reflectance and Solar Reflectance Index measures established by the Cool Roof Rating Council, is Energy Star-certified and qualifies for points under the latest LEED (v4) green building program. (Both  also qualify to receive LEED credits by helping prevent 'heat islands' – the hot, muggy effect that results when densely-built buildings absorb sunlight and release heat in crowded urban areas.)
The list goes on, and we'll be publishing more details on how GenFlex products support energy-smart buildings and have earned recognition by LEED and other green building organizations. We believe energy action starts at the top – with a quality roofing system, installed by a preferred GenFlex licensed contractor.
For more information on GenFlex products and programs, visit www.GenFlex.com – to request training on product-specific installation and maintenance practices, click here.