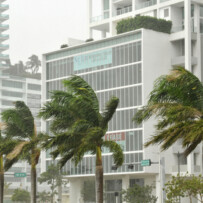 Just because it is November does not mean you no longer have to worry about hurricanes. As Yogi Berra said, "It ain't over till it's over." In fact, the official Atlantic hurricane season lasts until November 30. The month of November has had some significant hurricanes including the Cuba hurricane in 1932, a Category 5; Hurricane Lenny in 1999, a Category 4; Kate in 1985, Hurricane Paloma in 2008, and Ida in 2009.
Karen Clark & Company (KCC), a leading catastrophe modeling company for the insurance industry, estimates that hurricanes can cost insurers billions of dollars for storm damage. And that doesn't include the wreckage left behind to buildings, contents, automobiles and for lost time. According to KCC's report, the Florida coastline between Cape Canaveral and St. Augustine has experienced extensive devastation from wind, including significant roof damage to residential and commercial structures, along with windows, awnings, and signage from these tropical storms and hurricanes. The inland flooding destruction can be even more detrimental caused by torrential rain storms produced by these coastline storms.
What Can You Do? Inspect Your Roof.
If you live in an area that experienced Hurricane Matthew, or in any of the gulf or Atlantic states that are vulnerable to hurricanes, make sure you inspect your roof even if you do not think you incurred damage this storm season. Even small punctures, minor flashing issues, and seam tearing can lead to major damage especially if you experience another hurricane this year.
Building owners and facility managers shouldn't be the only ones inspecting their roof and preparing for the storm. Builders and roofing contractors should secure their building sites as best as possible to reduce damages and minimize potential risks. "Any construction equipment that essentially can be thrown around in a heavy windstorm needs to be tied down, needs to be removed from the site, needs to be protected," says Justin Mihalik, president of the American Institute of Architects' Disaster Assistance Program.
In the event of any storm-related roof damage, or if you would just like a professional to inspect your roof, your best resource is a qualified, commercial-roofing contractor like those who are GenFlex‑authorized. You can locate a GenFlex-authorized contractor here.