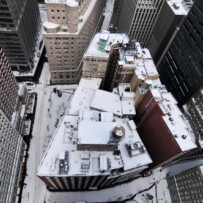 Winter begins this year on December 21, at 5:44 a.m. EST. Are you ready? The National Oceanic and Atmospheric Administration (NOAA) is predicting wetter, cooler conditions in the northern U.S. for this winter. It is important to be prepared for the snow, ice and wind that can impact your rooftop.
Snow
If you are located in an area where snow fall is likely, it is a good idea to have a plan in place. In the winter of 2014–15, Boston received a record 110.6 inches of snow! Roofs in that area weren't designed to handle that type of snow load, and there were many roofs that collapsed. In fact, Boston Magazine called the collapsing roofs an epidemic. It is a good idea to learn about snow loads and how they impact your building.
The Federal Emergency Management Agency (FEMA) has published a Snow Load Safety Guide. It contains some interesting facts and useful information – such as wet, heavy snow can weigh as much as 21 pounds per square foot! Do you know who you would call if you needed snow removed from your roof? It can be a dangerous activity that is best trusted to a roofing professional. If you wait until after a blizzard to contact your roofing contractor, they may be extremely backed-up with similar requests, from both new and existing customers. Also, if excessive snow loads are an annual problem for you, you might be a good candidate for a load monitoring system, as described in our October 2016's Smart Roofs article. These systems can take some of the guesswork away and help you avoid unnecessary and hazardous snow removal.
Ice
One of the biggest concerns in winter is water backing up causing ice dams or snow melting and freezing causing ice to accumulate on the rooftops. The freeze-thaw cycles can happen on a daily basis with warmer temperatures in the day and frigid temperatures overnight. According to the Insurance Institute for Business and Home Safety, one inch of ice can weigh as much as one foot of snow! The best defense is making sure your roof maintains proper drainage. Ensure all roof drains, gutters, downspouts and roof scuppers are free of debris and are in good working condition. If your gutters and drains tend to freeze every year, ask your roofing professional if heat cables are a good choice for your particular situation.
Wind
Wind can be a problem in other seasons. However, wind plus snow or ice can cause additional problems. Wind can cause snow to drift on rooftops causing certain areas to have higher snow loads, or the drifts can cause problems with roof drainage. Tree branches heavy with ice can easily break with high winds, so it is a good idea to have any overhanging tree branches removed prior to winter snowfall before they cause roof damage in the winter. Also, check the HVAC units and other equipment for loose or missing screws to prevent their panels from flying off in high-wind conditions and damaging the roof.
Inspections
If you didn't have a fall roof inspection, schedule an inspection right away. A professional roofing contractor can find small problems before they become big ones this winter. While we still have some nice weather and some warmer days, it is a great time to get your roof prepared for the cold weather ahead. Contact GenFlex or locate a GenFlex-authorized contractor here.