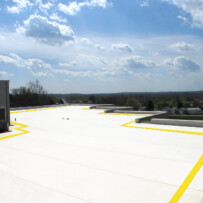 Currently, accidental falls are the leading cause of death and serious injury for roofing workers. Many accidents can be prevented with the use of proper safety measures and training.
During a two-year period, California's OSHA conducted investigations  into 126 accidents from roofing operations and found that three out of every four accidents occurred at operations where there was a violation of state safety regulations.
In an effort to increase safety on the job,  OSHA is launching a safety awareness campaign specifically designed for roofers.
Staying up to date on OSHA's workplace safety regulations can help prevent both safety violations and injuries on the job. Learn more about OSHA's general guidelines for working safely in commercial roofing on its website.Educating yourself and your employees about proper safety can go a long way on the jobsite.
GenFlex recognizes the need to take safety precautions on the jobsite and offers textured walkway pads, yellow safety strip and other accessories to make roofing safer; beyond the use of such products, the company encourages its contractor partners to adopt a comprehensive plan to prevent workplace injuries.
The National Roofing Contractors Association offers free safety training for both members and nonmembers. The courses are funded by grants from OSHA. Members also have the option to register for additional OSHA-related courses.
For more information on GenFlex products and programs, visit www.GenFlex.com – or to request training on product-specific installation and maintenance practices, click here.