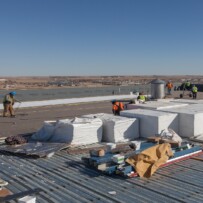 Employment in the construction industry for the first two months in 2017 was up over the same months in 2016, according to the Bureau of Labor Statistics' Openings and Labor Turnover Survey (JOLTS) report. New hires in January was up 92,000, and in February they were up 22,000 over last year's numbers. The construction industry added a total of 756,000 new hires in the first two months.
March numbers are also looking great. The Associated General Contractors of America (AGC) reports a 2.6% increase in construction employment in March from a year ago, and noted that construction employment is at the highest level since 2008! And, it looks to continue. Manpower's Employment Outlook Survey for Q2 2017 reports an expected construction staffing level increase of 15% for the next three months.
Total construction spending was also up for the first two months in 2017 over the same months in 2016. Let's review the latest numbers from the Value of Construction Put in Place Survey (VIP) by the U.S. Census Bureau. It provides monthly estimates of the total dollar value of construction work done in the U.S.
In January, total construction put in place was $1.18 trillion, which is up $43 billion (3.8%) from January 2016.
February numbers were also good: $1.19 trillion, up $35 billion (3%) from February 2016. Drilling down on the February numbers, we see a 20% increase from a year ago in office construction, a 13.9% increase in lodging, a 12% increase in commercial construction, and an 8.9% increase in amusement and recreation construction spending.
The United States Census Bureau building permit data is also showing increases over last year.
Another economic indicator worth noting, since it can fuel more construction spending, is the Conference Board Measure of CEO Confidence™. Its April 6, 2017's press release reports that CEO confidence in Q1 of 2017 is the highest in nearly 13 years. But on a down note, it also says that CEOs report finding qualified workers as the biggest challenge to hiring. This is a problem well known to the roofing industry. As an industry and a country, addressing this concern should be a high priority.
Remember that GenFlex is here to support you as your business grows. We have great educational resources as you hire new employees, knowledgeable representatives ready to answer your questions, and innovative products that help you do more with less.