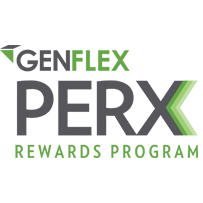 Working hard goes hand-in-hand with being a roofing contractor, but as a GenFlex authorized contractor, you can earn a little something extra for all the work you do.
Nothing beats working with a high quality roofing membrane, but isn't it great knowing you are appreciated for your loyalty to the GenFlex brand? This is GenFlex's way of saying thank you to our authorized contractors.
As a GenFlex authorized contractor, you can take advantage of the exciting rewards program and receive points based on the type of projects you are working on.
Sign up to receive your rewards
To sign up for the program, you will need your Authorized GenFlex contractor license number for your username and password to log on to www.genflexperx.com. Once you are logged in, you can check out the many reward options. If you've installed a GenFlex warranted roofing system, chances are you already have points waiting for you. No registration is necessary.
Points vary based on insulation, membrane type and square footage of installation, but you can check out a full list of point values by visiting our PERX page.
Don't miss out on this opportunity to be rewarded for your dedication and loyalty to the GenFlex brand! To find out more, watch our video below.