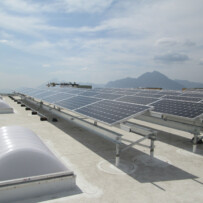 Solar panels are becoming more and more prevalent, and maybe you have been tasked with having some installed on your building. However, like with anything else, it is wise to do some research up front. While examining competing solar technologies to determine what will work best, also consider the impact of installing solar panels on your rooftop.
There are four primary methods of attaching solar panels:
Ballasted—Panels are held in place by weighted material and do not require roof penetration. This is a popular installation method.
Penetrating—Panels are mounted on roof supports that penetrate the roof. These should be structurally attached and properly flashed. This method securely attaches the panel and provides good wind resistance.
Mechanically fastened—An option for a metal roof where the panels are directly attached to the roof.
Laminated systems—Panels are laminated directly to the roof.
Improperly installed solar panels can cause maintenance headaches or real damage to your roof. Some factors to consider before proceeding with a panel installation are:
Roof age—Roofs are rated for only a certain number of years. Installing a new solar array onto a roof nearing the end of its life probably doesn't make sense. Consider replacing your roof first with one that will last at least as long as the solar panels. Design the new roof with the solar panels in mind. The use of fully-adhered, 60 mil or thicker membrane, and high-density cover boards are recommended for ballasted installation. Walkway pads should also be installed to give access to the panels. Consult with an experienced professional for other recommendations.
Load capacity—Can your roof withstand the extra weight of the solar panels? Are you also taking into consideration additional load factors such as wind and snow? How about foot traffic around the solar panels? Structural changes may be required.
Water drainage—Will the system impact how the water will flow on the roof? It is important that proper drainage is maintained when designing the layout of the panels and associated electrical conduits.
Ballasted systems—Will the system stay in place during high winds, hurricanes and earthquakes?
The National Roofing Contractors Association (NRCA) publishes a useful resource that describes the best practices for rooftop-mounted solar panels, Guidelines for Roof-Mounted Photovoltaic System Installations. In addition, the NRCA and the Center for Environmental Innovation in Roofing established Roof Integrated Solar Energy (RISE™) Inc. RISE certifies solar installers as Certified Solar Roofing Professionals™ (CSRPs™). While there are certainly other qualified installers out there (and you should always do your proper due diligence), installers with this certification should have the roofing knowledge needed to properly install your solar panels while protecting the integrity of your roofing investment.
GenFlex Roofing Systems has all the insulation, single-ply and accessory products to give a building a perfect set up for solar panels.
Image Credit: Firestone Building Products, HEB Mexico – Photovoltaic Panels + SunWave Daylighting Systems