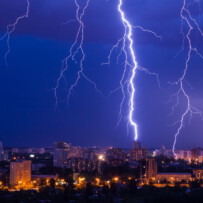 2015 was a record-breaking year for storms around the country, and according to weather.com, 2016 may be no different. While warmer than average temperatures are expected for much of the country, excluding the Southeast, many areas will be facing extensive rain and flooding.
Accuweather.com predicts an above-average number of severe storms for the South, and as spring progresses, the Midwest and Southwest are expected to experience more severe storms and flooding than normal. With more extreme weather coming to many parts of the country, it will be more important than ever to ensure your building's roof is ready for the wet season.
Some of the most common roof problems you will want to look for this spring include:
Rain and hail. Rain and hail can cause damage to the roofing membrane, which leads to leaks and moisture under the layers of roof, eventually causing mold and rot. A poorly installed single-ply roof with weak seams can also cause leaks and moisture build-up.
Debris. Flying debris from severe storms can land on the roof and puncture the roofing membrane. To catch any damage caused by a storm, it is a good idea to clear debris off the roof after a storm and inspect for any damage.
Standing water. Low-slope roofs are designed to drain within 24-72 hours, but if you notice areas of your roof are retaining water for longer periods, you should inspect closely. After a heavy rainfall, any buckling of the roof that creates standing water could reveal more serious issues at the roof decking.
Wind. If the building's roof is a mechanically attached system, wind can cause the roof's fasteners to move. The movement can become a bigger issue if the fasteners move enough to enlarge the holes and the fasteners back out. In more extreme cases, the fasteners can puncture the roofing membrane.
Regular maintenance, including regularly scheduled roof inspections, is critical for preventing many of these issues. For tips on performing a roof inspection, see our recent blog post, Stay dry this spring with preventative roof maintenance.
For more information on GenFlex products and programs, visit www.GenFlex.com – or to request training on product-specific installation and maintenance practices, click here.