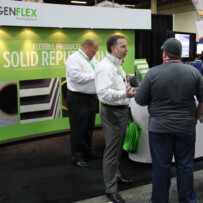 Tradeshows are the perfect chance for you to learn about new products, attend seminars and conferences and make connections with your favorite roofing companies. We are excited to get this year's tradeshows started!
Starting with the Chicago Roofing Contractors Association tradeshow, GenFlex was Illinois on January 22 and 23 in booth 811.
Some of the other exciting events that took place at the CRCA tradeshow included presentations about roofing and waterproofing safety and a look at R values for low and steep slope roofing. For more information about the CRCA tradeshow and to see the show's schedule or to see past presentations, visit the CRCA website.
Following up on February 24-26, you will be able to catch GenFlex at the International Roofing Expo at booth 1533.
This tradeshow offers you the opportunity to pick among 44 sessions to attend in addition to meeting with companies in the expo hall. To check out the full IRE schedule and to read about the special events, refer to the IRE website.
To see a full schedule of tradeshows and events for the year, check out our Calendar.
For more information on GenFlex products and programs, visit www.GenFlex.com – to request training on product-specific installation and maintenance practices, click here.