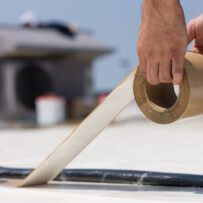 Many things must fall into place for a construction project to finish on time, but as a roofing contractor you can do your part to keep the whole project on task for a timely completion. It can be a challenge to finish a roofing project on time, given unexpected weather conditions, product availability, and often demanding schedules from general contractors or business owners.
To avoid potential problems with your next roofing projects, follow these top tips from our roofing professionals:
Stay up to date with the weather forecast for the duration of the project. Following the weather forecast will allow you to plan a better schedule for the project and to avoid any delays that could potentially be costly.
Plan to order and schedule roofing materials. Some materials that are needed may take longer to order or may need to be special ordered. By planning ahead, you can avoid delays on the jobsite that are associated with lack of needed materials.
Take advantage of technology on the jobsite. Scheduling software, organizational tools and mobile apps can be a roofing contractor's best friend. Check out the GenFlex technical app, available for Apple devices, which can save time and keep you organized with all of your technical roofing material documents available on a moment's notice in the app.
Always work with a trusted roofing distributor. Find a trusted partner to work with on every roofing project. The right roofing distributor can serve as an extra layer of support for your roofing needs and problems. To find your nearest GenFlex roofing distributor, check out our Expert Locator.
For more information on GenFlex products and programs, visit www.GenFlex.com – or to request training on product-specific installation and maintenance practices, click here.