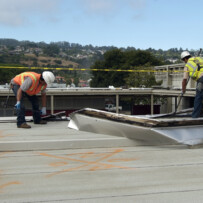 Unforgiving storms combined with excessive amounts of rainfall followed by extreme summer conditions have created less than ideal conditions for an older roofing system this season. It was the most active July for tornadoes since 2010, according to the U.S. Department of Commerce's National Oceanic & Atmospheric Administration. On July 12, a large thunderstorm traveled nearly 1,000 miles from Minnesota to North Carolina, resulting in more than 900 severe weather reports, mostly consisting of strong winds and large hail – a roof's worst nightmare.
Also according to the U.S. Department of Commerce's National Oceanic & Atmospheric Administration, this past July marked the wettest July on record for a few states and cities, including Kentucky and San Diego. All of the intense storm damage to both residential and commercial roofs is keeping roofing contractors busy with repairs and reroofs, leading to the question, is it time to re-cover or repair your commercial roof?
A thorough inspection of your low-slope roof will help determine any needed steps to fix the roof:
Repair: If the roof has only a few minor issues, this may be the best route to go. If your roofing membrane has not met its life expectancy and is in good condition, repairing the roof will be a more economical option.
Re-cover: Your roof may be in good condition but is beyond the point of  minor repairs. Re-covering the roof offers a less costly way to fix your roof's problems. The insulation of your roof needs to be in good shape as well for this option.
New roof: A roof near the end of its life expectancy with a considerable amount of damage may need a complete replacement. Inspecting the roofing membrane and insulation will help determine if this is the best mode of action.
By working with the right products for your roofing needs that are designed to handle extreme weather conditions, you will keep your roof performing at its best. GenFlex offers a full line of roofing products designed to suit your roofing needs. Learn more about GenFlex's products, or check out GenFlex University for an interactive guide to installing, inspecting, and maintaining a high-performance roof for all seasons.
For more information on GenFlex products and programs, visit www.GenFlex.com – or to request training on product-specific installation and maintenance practices, click here.