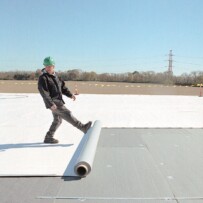 Winter weather often brings a different set of challenges for roofing contractors, or any occupation that requires time outside. Whether it's a blizzard, ice or even strong winds, sometimes the unexpected can present challenges for working on the roof. Safety should always be top of mind, so our team has compiled their top tips for staying safe during these winter months.
Monitor the weather conditions as well as your own body conditions.

Cold temperatures can be dangerous for your own health. Hypothermia and frostbite are both concerns in the winter, so be sure to cover exposed skin and wear an extra insulation layer, if needed. The first signs of frostbite are:

Cold skin and prickling feeling
Numbness
Red, white, bluish-white or grayish-yellow skin
Clumsiness due to joint and muscle stiffness
Blistering after rewarming
Frostbite is most common on the fingers, toes, nose, ears, cheeks and chin. Because one of the first signs of frostbite is numbness, you may not realize you have frostbite until someone else points it out, making it even more important to watch out for others that are on the job with you.
Take breaks throughout the day. By staying safe and including time for breaks to warm up, you will likely increase your productivity and reduce your risk for accident. This is also a good time to check your skin for blistering or discoloration.
Know your "Winter Weather Terms."

For anyone going outside for an extended period of time this winter, it is important to be aware of local forecasts, warnings and weather terminology. Planning ahead for frigid temperatures and wind chills can help you prepare for a long, cold day – or determine whether or not to reschedule a job. NOAA (National Oceanic and Atmospheric Administration) outlines key weather terms

Ice and snow removal is necessary before working on the roof.

To ensure worker safety, ice and snow should be removed from the roof and other work areas before continuing with the day's work. Salt should be used to de-ice and snow should be removed to prevent workers from slipping and falling.
Snow drifts can cover skylights and roof openings which can cause workers to slip or fall and injure themselves.

Watch out for dehydration.

It might not be scorching hot outside, but you can still suffer from dehydration. And because few people recognize the signs of dehydration in the winter, it can be even more dangerous. Be sure to fill up on water before starting your day and include plenty of fluids, and water-rich fruits and vegetables (lettuce, oranges, apples and watermelon) throughout the day.
Safety is always important when working on the roof, but it is extra important during the winter with the extreme weather conditions. For more information about working on the roof during the winter months, check out our blog post Survive winter without roof damage.
For more information on GenFlex products and programs, visit www.GenFlex.com – or to request training on product-specific installation and maintenance practices, click here.