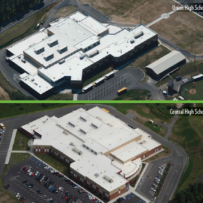 An estimated one third of educational facilities need extensive repairs and renovations, according to the National Center for Education Statistics and U.S. General Accounting Office. School administrators and facility managers are continually looking for best fit solutions for building maintenance needs while meeting long-term durability and operational costs.
Two high schools in Virginia found themselves in need of new roofing systems that could stand up to the test of time, while providing the schools with the added benefits of energy efficiency. They found a reliable partner in GenFlex Roofing Systems.
School administrators from Union High School and Central High School in Southwest Virginia werepushing forward on an ambitious school consolidation and construction effort. To make sure these investments would meet the needs of many generations of students to come, the construction plan called for a quality roofing system with low maintenance requirements.
The right solution for demands of schools. A high-performance, GenFlex fleece backed TPO roofing system was able to fit all of the schools' criteria. This fully adhered system also features GenFlex Polyiso, an extremely efficient thermal insulation board that delivers higher R-value per square inch than alternative roofing insulations. Well-insulated roofing systems are always an important factor in lowering heating and cooling expenses over the life of commercial and institutional buildings like schools.
A reliable partner for both distributors and schools. Serving as a trusted partner, GenFlex has built a 30-year reputation in the construction industry based on the reliable performance of its products. This commitment starts with distributors like Mid Atlantic Roofing Supply who reflect the same values and are dedicated to the contractors' success.
"I've worked with GenFlex for over eight years now, and my experience has always been great," said Randy Johnson, a GenFlex distributor with Mid Atlantic Roofing Supply. "We have had the number one sales for GenFlex for the last three years and have had nothing but good experiences."
To read the full project profile on these two high schools in Virginia, check out our project portfolio page. You can also read more about our other highlighted projects.
For more information on GenFlex products and programs, visit www.GenFlex.comTo read more project profiles, visit our Project Portfolio page here.