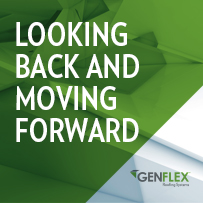 Industry Growth
Eighty-eight percent of the Roofing Contractor's 2016 Commercial Roofing Trends study respondents reported steady or positive growth in 2016! That's great news for the commercial roofing industry. Furthermore, the U.S. Census Bureau of the Department of Commerce announced on January 3 that during the first 11 months of 2016 (December numbers are not in as of yet), construction spending amounted to $1,070.9 billion, 4.4 percent (±1.0%) above the $1,025.5 billion for the same period in 2015. In fact, the November construction spending reached its highest level in 10 years according to U.S. News and World Report. It looks like 2016 will go down in the books as a decent year for the construction industry as a whole.
Product Trends
The Roofing Contractor's 2016 Commercial Roofing Trends study also offered us some interesting information as to which products were in demand. A great majority of respondents said single-ply sales were up in 2016. Single-ply roofing products accounted for 58 percent of commercial roofing sales. TPO made up half of those sales, EPDM accounted for 27 percent, and PVC 23 percent. Low-slope asphalt roofs came in second in commercial roofing sales followed by metal roofing and coatings. Eighty-one percent of respondents expect growth in single-ply sales in 2017. Green roofs, while accounting for only a small percentage of sales, are something to keep an eye on as more customers look for green alternatives.
Employment
According to the December 2016 Manpower Group Employment Outlook Survey, the construction industry is expected to increase payrolls in the first quarter of 2017. However, labor issues continue to plague the roofing industry. The top concerns for employers responding to the Roofing Contractor's 2016 Commercial Roofing Trends study are:
Cost of healthcare and insurance
Search for qualified workers, and
Government intervention and regulations.
The construction industry can only hope that progress is made in those areas in 2017 so that labor issues do not stifle growth.
2017 Forecasts
2017 is looking to be a great year. Per RnRMarket Research.com, commercial construction is forecast to be the fastest-growing construction market resulting from low interest rates, diminishing unemployment rates, and government initiatives designed to stimulate the economy. Dodge Data & Analytics is predicting a five percent increase in new construction starts in 2017. The Roofing Contractor's 2016 Commercial Roofing Trends study also reports optimism from it respondents with the majority expecting sales to increase in 2017.