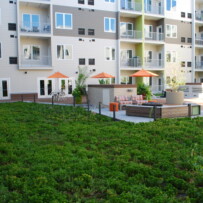 A green roof is also referred to as a living roof or a vegetative roof. In simplest terms, it is a roof covered with living plant life. Green roof systems bring nature to the usually stark environment of a building's rooftop. There are many reasons why more and more building owners are turning to green roof systems.
Green roofs enhance the aesthetics of a building. If so designed, the roof can be a park-like area for the building tenants to enjoy as a retreat or perhaps a play area for children. Tenant community food gardens are also possible.
Green roofs are great for the environment. They increase air quality since plants can absorb air pollutants and provide a nature habitat for wildlife including birds and butterflies. They save energy since they act as an insulator reducing heat loss in the winter and cooling expenditures in the summer. Green roofs are also known to mitigate the Urban Heat Island Effect.
Plants, through the evaporation cycle (evapotranspiration), can reduce the air temperature above rooftops. Additionally, green roofs absorb less heat than traditional black roofs. For more information regarding the Urban Heat Island phenomena, please review our July 2016 blog post on Cool Roofs.
Green roofs can also qualify for Heat Island credits applicable to the LEED v4.
Green roofs aid in stormwater management since they store and use rainwater. This feature also helps alleviate stress of city sewer systems by reducing the amount of stormwater runoff and may qualify for various local incentive programs.
Another great benefit of a green roof is that it extends the life of roofing membranes. Since green roof systems are built on top of roofing membranes, such as GenFlex EDPM or TPO, they provide an added layer of protection against large temperature fluctuations and harmful ultraviolet radiation that can damage roofing membranes over time.
Green roofs act as a tenant amenity that can increase the property value and building marketability by appealing to those interested in the green movement or those just wanting a green oasis in the city. Contact a GenFlex Sales Representative today to discuss GenFlex roofing options that work best with green roof systems.
Image credit: Firestone SkyScape™ Vegetative Roofing System, Allentown, Reading, PA