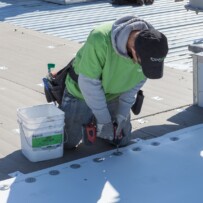 When searching for a roofing contractor, most people start searching the internet to review all of the local listings. But it's important to ask other building owners or facility managers for their recommendations as well. GenFlex offers a Find-An-Expert tool on our website, where you can locate GenFlex-authorized contractors in your area, as well as authorized sales representatives that can help point you in the right direction.
Fine-Tuning the Search List
The following are some basic tips to finding commercial roofing contractors.
Look for a range of photographs on the company's website illustrating project details and established history, similar to a project portfolio.
Look for videos that detail their projects and illustrate how they make repairs around skylights, valleys, or roof to wall flashing details.
Look for a contractor that installs the roof type you plan to use.
Does your contractor have a permanent place of business with phone number, business address, and business license? This can be verified by calling your local building department, or reaching out to a GenFlex sales representative.
Does your contractor belong to local, regional, or national associations and attend seminars to stay on top of the lasted industry standards?
Check their social media pages, or search hashtags using their business name.
Finding Legitimate Reviews
Read the reviews to start the refining process.
Keep in mind that some companies create their own reviews that are not from real customers.
Do the reviewers provide their full names along with their business names so you can verify them as real?
Search the company name to determine licensing, litigation, complaints, and reviews on web forums.
Evaluating the Selected Contractors
Evaluate the contractors by asking them the following questions:
Question: Do you have a license (often displayed on the company vehicle under the business name)?
Note: Not all areas require licenses so this may not be applicable.
Rationale:  Licensing ensures the contractor knows all of the appropriate building codes and approved materials for each project.
Question: Do you have bonding or insurance? Can you provide insurance certificates showing worker compensation and general liability insurance?
Rationale:  When a contractor is NOT bonded or insured, your business can be held responsible for work injuries on your site.
Question: Do you have a Safety Director? What is your safety record, and do you have any Occupational Safety and Health Administration (OSHA) citations?
Rationale:  Safety records should be the main consideration of any roofing contractor. You want to avoid accidents on your site due to poor safety practices.
Warranties
All contractors should provide written warranties covering material and workmanship.  When the contractor provides material manufacturer extended warranties, it means the manufacturer backs the work as it was installed according to the manufacturer's specifications.  GenFlex offers 10-, 15- and 20-year Roofing System warranties. Click here to view all of our warranty options and resources.
Yes, all this requires some work but when you consider the cost of a poor roofing job, it is well worth the extra time and effort. GenFlex takes pride in our selection of certified roofing contractors. Together with our distributors, we offer on-site training, and other various continuing education opportunities to ensure building owners receive quality work, in addition to quality products, warranties and service.