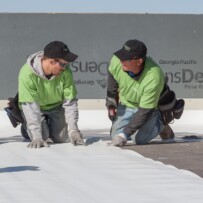 For many of us, school or college days are just fond memories of the past. However, that doesn't mean we can stop learning.  As a commercial roofing business owner or someone working in the industry, the importance of continuing education in our changing industry should be recognized. While it is easy to become set in one's ways, especially if you have been successful in the past, the industry is growing and changing and becoming more technology driven than ever before. You have to stay relevant and up-to-date on new products, trends, environmental issues, new methods to reach new and current customers, more efficient installation techniques, and new codes and regulations, to name a few. And, continuing education can include some things that aren't necessarily new (but maybe new to you) such as learning more about project management, risk management, marketing, finance, safety, employee relations, etc. All of which can help you stay above your competition.
Does continuing education mean you have to go back to school?  No, there are many opportunities to increase your knowledge outside of traditional education. They include online classes, webinars, in-person seminars, topic-specific instructional classes, books, magazines, accreditation courses, and even something as simple as networking. Let's take a look at some of the possible opportunities available to you that are particularly relevant to the commercial roofing industry.
The green building sector is rapidly growing. Having knowledge of LEED v4 can be very valuable since it can open doors and provide a way to reach new clients. The U.S. Green Building Council (USGBC), the organization behind LEED, provides online courses that help you prepare for its exam to be a LEED professional. Then, in order to maintain that credential, you'll need to earn additional continuing education hours. The USGBC requires this because the organization wants you to demonstrate continued competency and up‑to‑date industry knowledge.
The Occupational Safety and Health Administration (OSHA) requires employers to provide fall protection training to workers who might be exposed to fall hazards. The National Roofing Contractors Association (NRCA) provides an in-person course on the subject called Roofing Industry Fall Protection from A to Z. While it may not be feasible for your company to send the whole crew to this training event, you or another representative could attend and bring back the knowledge to train the team. NRCA also provides many other educational opportunities. Emerging Business Technologies in the Roofing Industry is one of them. This webinar covers technologies currently being used in the roofing industry, including apps and software. And, it is free to NRCA members. The available courses and events are updated regularly, so check the NRCA website for the current listings.
There are many additional industry resources available that can be easily found on the Internet. For example, Roofing Contractor hosts webinars. Some current ones include 2017 State of the Industry Report and "What's On Your Roof?"- Assessing Rooftop Fall Hazards. These are free and only require your registration to access.
GenFlex also strongly values continuing education, providing extensive online training with the GenFlex University Online Education Program. Available courses include GenFlex EPDM Roofing Systems, GenFlex Roofing Insulation and Coverboards, and GenFlex TPO Roofing Systems. These courses explore the characteristics, advantages, cautions, and installation methods for these product categories. They are also available in Spanish. We have a selection of informative videos on our training video web page as well. And, finally we provide in‑person, hands-on training programs. To learn more, visit the Request a Training page.
Consider investing some of your time in continuing your education. The extra effort can provide the edge you need to stay relevant and in front of the completion in our rapidly changing commercial roofing industry.