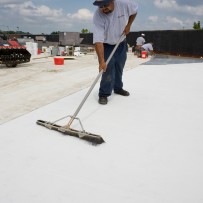 Roofing Systems Play a Role in Achieving LEED Rating Levels
LEED was introduced in 1998, and since then it has become the coveted standard for green and sustainable buildings. Projects can receive one of four LEED-rating levels: Certified, Silver, Gold, and Platinum. LEED Version 4 (v4) raises the technical standards and broadens the scope of the previous version, LEED 2009. New real estate sectors are now under scope including data centers, warehouse and distribution centers, hospitality buildings (hotels), and multi-family mid-rise residential buildings. It also now includes existing schools and retail buildings.
LEED rates a project based on multiple credit categories. These categories are Sustainable Sites (SS), Water Efficiency (WE), Energy and Atmosphere (EA), Material and Resources (MR), Indoor Environmental Quality (EQ), Innovation (IN), and Regional Priority (RP). LEED v4 adds Integrative Process and the Location and Transport (LT) category.
The following explains briefly how roofing systems can play a role in a few of the LEED v4 credits and prerequisites. However, this is not meant to be an exhaustive list. Consult with a certified LEED expert for their insight and guidance on how roofing material choices can contribute in achieving your LEED v4 goals.
The new LEED v4 Integrative Process comes early in the design lifecycle and the goal is to identify and implement design synergies across disciplines and building systems. Roofing systems should definitely be considered.
Under the SS category is the Heat Island credit. It has been revised in LEED v4. This credit is based on both non-roof measures (e.g., plants, paving materials, and shading) and high-solar reflectance roofs or vegetative roofs. The qualifying roofs must cover at least 75% of the total roofing area. For high‑solar reflectance roofs, LEEDs v4's minimum Solar Reflectance Index (SRI) value requirement for low‑sloped roofs is 82 for an initial SRI or 64 for a three‑year SRI. GenFlex manufactures the following products that meet the acceptable SRI values, as rated by the third‑party Cool Roof Rating Council:
Under the EA category is the Minimum Energy Performance prerequisite and the Optimize Energy Performance credit. Solar-reflective roofing materials can play a role in achieving the prerequisite and credit.
GenFlex also offers a variety of Polyiso products that satisfy multiple categories of LEED V4:
Product
For more information regarding Heat Islands and Solar Reflectance, please review our July 2016's Cool Roofs article. And remember that with the GenFlex commitment to green and sustainable construction, GenFlex products are a perfect fit for your next LEED v4 project.