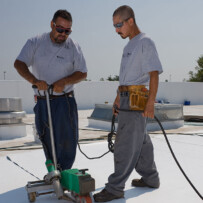 As we head into the second half of 2017, let's review how the year has stacked up so far.
According to the U.S. Census Bureau, construction spending for the first four months of the year was $359.5 billion, 5.8 percent above the $339.7 billion for the same period in 2016. If we just look at April's monthly construction spending, it indicates a seasonally adjusted annual rate of $1.21 trillion. If that number holds true, 2017 will experience a 4.8 percent increase over 2016. It looks like we can be in the range of about 5-6 percent growth in total construction spending.
Let's drill down further into the bureau's April Value of Construction Put in Place Survey (VIP) results. Private construction spending compared to April 2016 increased 12.4 percent for office buildings, 12.4 percent for commercial construction, and 2.4 percent for educational-related construction. Healthcare construction was flat compared to 2016. According to Dodge Data & Analytics' twelve-month moving totals ending in May 2017 compared to the twelve months ending in May 2016, total construction starts were up 3 percent. And, nonresidential building increased 14 percent, with commercial building up 11 percent.
Weather is always a gamble
As we know, weather can impact the construction industry and particularly the roofing industry. Forecasters at NOAA's Climate Prediction Center are calling for an above-normal hurricane season this year for the Atlantic. An 80 percent chance of a near- or above-normal season is predicted for the eastern Pacific and central Pacific hurricane basins. Typical hurricane season is between June – November, so we are just starting to make our way into that time of year. To help you prepare for any tropical storms or hurricanes, check out our blog on "Preparing for Tropical Storms."
Next, we examine the NOAA's Annual Severe Weather Report Summary. If we focus on the first five months of the year, it indicates the number of severe weather events are up from 7031 last year to 8498 for the current year. Severe weather events include tornadoes, wind damage, and large hail events. If the increase for the first five months continues, 2017 may have more severe weather events than last year. Before a storm hits, it is best to be proactive and locate an authorized contractor to inspect your roof, and also reacquaint yourself with your warranty policy. If you need help locating a roofing professional, you can locate a GenFlex-authorized contractor here. If you need help locating warranty reference guides, or have any questions about a GenFlex warranted roof, visit our warranty page here.
A look forward into the 2nd half of 2017
The construction labor outlook as reported by Manpower's Employment Outlook Survey for Q3 is looking good. Seasonally adjusted construction payroll growth of around 14 percent is predicted. The South and the West regions of the country are showing the best anticipated growth of 16 percent each. Grand Rapids, Raleigh, Charlotte, Colorado Springs, and Des Moines are the cities where the net overall employment outlook across industries for the third quarter looks to be the highest with each over 30 percent.
As the construction industry continues to grow, so too will the need for skilled laborers. One trend that has not changed this year is the unemployment rate and lack of skilled construction laborers. This is a major concern across the US for construction employers and also building owners or facility managers. This may eventually lead to more expensive projects and longer project lead times. By working with GenFlex Roofing Systems, you have access to a variety of roofing professionals across the country – from distributors to authorized roofing contractors, GenFlex can help you find a team of reliable, skilled and efficient workers to help you stay on budget and manage your reroof or new construction project.
To find a GenFlex Sales Representative in your area, visit /find-an-expert and search for your state under the "Sales/Tech Experts" field.
2017 has been a good year so far; with any luck the positive growth trend will continue to the end of the year and beyond.